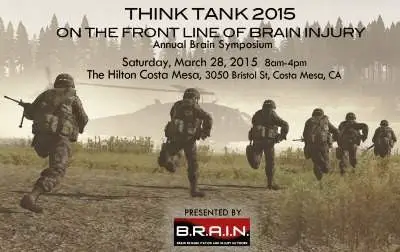 FOR IMMEDIATE RELEASE: March 24, 2015
Major Event Will Combat Post-Traumatic Stress Disorder (PTSD), Suicide Among OC Vets; Provide Free PTSD Therapy
As study shows nearly half have PTSD and 20% plan suicide, coalition of veterans and health groups to hold major event to help OC vets
Mental health care for America's veterans remains one of the great challenges facing Southern California. A new USC study released in February found that nearly 20% of Orange County veterans had made a plan to die by suicide; nearly half of those considering suicide did not receive help; and that 44% of post-9/11 veterans had PTSD.
The 2015 Think Tank Brain Symposium, a first-of-its-kind event organized by Brain Rehabilitation And Injury Network (B.R.A.I.N) will bring together the region's leading veterans and health organizations to provide free PTSD care for Orange County veterans, and raise awareness on groundbreaking treatments to help combat PTSD and Traumatic Brain Injury (TBI) – such as infrared therapy. More than 400 veterans are expected to attend. Local health experts will also provide counseling on suicide prevention.
Leading doctors, mental health experts and retired Army leaders including James Schickel, SGTMAJ, USMC (RET.), Dr. Todd Clements, M.D., Dr. Andrew Doan, M.D. and Dr. Jonathan E. Shaywitz M.D. Hundreds of veterans are expected to attend.
WHEN:
Saturday, March 28, 2015 – 8:00 AM – 4:00 PM
Media should arrive at 8:00 AM
WHERE:
Hilton Orange County
3050 Bristol Street
Costa Mesa, CA 92626
###
CONTACT: Anthony Chica, 323.466.3445, Anthony@cerrell.com