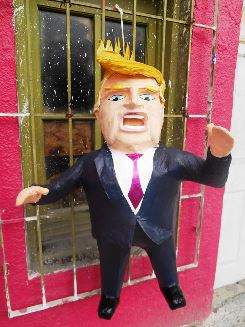 Lola Gaspar, a restaurant in Downtown Santa Ana, will be hosting a Donald Trump piñata bash and a barbecue on July 25, 2015, from 12 noon to 3 pm, according to the OC Weekly.
They will have five Trump piñatas available for us to smash!  The menu that day will include tri-tip, roasted corn, al pastor tacos, and frozen margaritas.
Trump made headlines this year when he said most Mexicans come here to rape and pillage.  The reaction to his stupid comments has been tremendous as one huge corporation after another has dumped Trump.
Lola Gaspar is located at 211 W. Second St., in Downtown Santa Ana.  They enjoy a four star rating on Yelp.