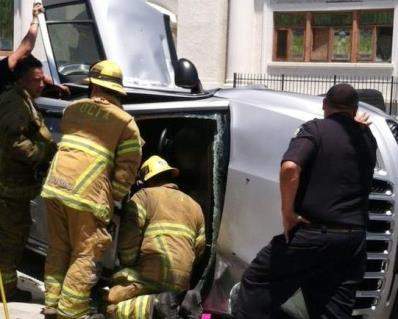 Two women and two children were injured Wednesday afternoon at around noon, after a rollover crash at the intersection of North Bush Street and East Santa Ana Boulevard, in Downtown Santa Ana, according to the O.C. Register.
A silver Jeep SUV drive by a woman in her 30s collided with a gray Toyota car near the intersection.  There was another woman around the same age in the Jeep and also two kids, ages 10 and 6. One of the women was trapped in the car for about 20 minutes before OCFA firefighters were able to free her from the SUV.  She ended up being taken to Orange County Global Medical Center in Santa Ana, where she was listed in critical condition.
The other woman was also badly injured.  She and the kids, who are a brother and sister, were taken to the same medical center.  The kids had minor injuries.  The driver of the gray Toyota was not hurt.
The SAPD closed down the intersection for quite a while as they investigated the collision. They have not reported how the crash occurred.