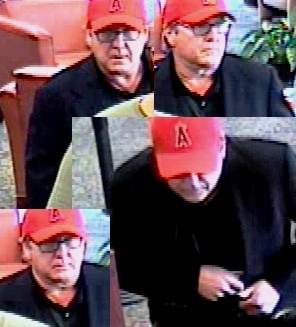 Another embarrassment for Santa Ana.  Turns out the so-called "Big A Bandit," who got that name because he habitually wore an Angels baseball hat while committing a series of bank robberies in Orange County, lived in Santa Ana.
The man, Robert Paul Simmons, 51, was arrested on Tuesday night, FBI spokeswoman Laura Eimiller said, according to the O.C. Register.
Simmons is thought to have robbed a ank of the West branch in Fullerton, back in 2013.  He started robbing banks again this year, in June, first at a Comerica Bank in Anaheim and later at a Bank of the West in La Habra. He allegedly returned to the Fullerton Bank of the West on July 2, and robbed them again.
Simmons used a handgun in that latter robbery, and he swore as he demanded large bills. He got away with $1,300 in a white envelope and fled in a unidentified vehicle.
The FBI has not revealed details of his arrest.