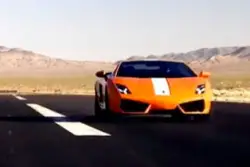 FOR IMMEDIATE RELEASE: NOVEMBER 19, 2010
CONTACT: JENN STARNES, 949-724-6574
Great Park to be Featured in Top Gear Television Show
Astronaut Buzz Aldrin Tests His Speed at the "Top Gear" Great Park Test Track
IRVINE – Former Astronaut Buzz Aldrin once rocketed to the moon, and will now be featured rocketing along the runways at the Orange County Great Park when Top Gear makes its American debut on the History Channel, Sunday, November 21st at 10:00 p.m. (7 p.m. on DirecTV).
The Great Park was selected to serve as Top Gear's home base for both its automobile test track shots and interviews with car racing celebrities, racing analysts and car buffs, which were filmed in historic airplane Hangar 244. Top Gear is produced by BBC Worldwide Productions, and is one of the United Kingdom's most popular television series. The show takes extraordinary and ordinary cars to the limit and beyond to find out if they're as good as manufacturers claim.
Orange County's Buzz Aldrin is one of the celebrity race car drivers to be featured in the premiere episode, titled Cobra Attack.
"We are thrilled Top Gear selected the Great Park as its site for the debut of the American version of the program," said Larry Agran, Chair, Orange County Great Park Board Corporation. "As part of our revenue-generating site rental program, the Great Park is becoming a popular shoot location in the film industry."
Top Gear tracks the colorful history of the automobile and showcases an offbeat celebration of the art of driving, featuring super-cars, extreme stunts and challenges, car reviews and celebrity interviews, as well as the eccentric adventures of its hosts with Top Gear's customary wit and humor. Hosted by comedian and car buff Adam Ferrara, champion rally and drift racer Tanner Foust and racing analyst Rutledge Wood, Top Gear explores the history of America, one lap at a time.
"The Great Park and its almost 8 million square feet of flat pavement is one of the few places in the United States suitable for auto cross where vehicles can be timed on a test track doing turns through cones," said Adam Ferrara, host of Top Gear.
For a sneak peek, you can click on the link to the website for the show:
http://www.history.com/shows/top-gear
To see the trailer for the show:
http://www.history.com/shows/top-gear/videos/playlists/exclusives#top-gear-sneak-peek
About the Great Park
The Orange County Great Park, with its 1,347-acre master plan, is the focal point of the redevelopment of the publicly-owned portion of the 4,700-acre former Marine Corps Air Station, El Toro. The Great Park is currently 27.5 acres and includes an iconic tethered helium balloon that rises 400 feet in the air, providing an aerial view of Park development. A $70 million development plan to expand the Park to more than 200 acres is currently underway. The plan will build out a core section of the Park for the most immediate and wide-ranging public benefit, including the initial components of the sports park, a 114-acre agricultural area, and an art and culture exhibition space. For more information, please go to www.ocgp.org
###