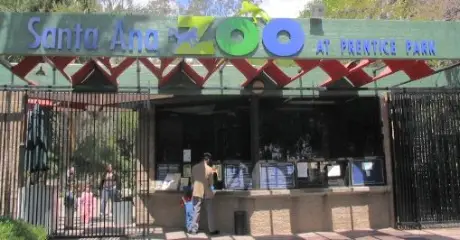 Sunday, November 21 is Free Day for Santa Ana residents!
If you live in the city of Santa Ana, the third Sunday of each month is a free admission day for the Santa Ana Zoo. Bring your family to come visit the anaimals, roam the gardens, maybe even ride the train and carousel. Come see what's new at the Zoo!  The Santa Ana Zoo is open 10am to 4pm.  (Proof of address may be required, up to 4 per household).
New Poison Dart Frogs (Dendrobatidae) are now in the Observation Outpost!  Come check out these little bright yellow frogs. In the wild, they have a poison which is accumulated by eating ants, mites, & centipedes, and the poison is sometimes extracted and used on arrow and dart tips by South American native tribes.  These frogs are indigenous to rainforests and wetlands of Central and South America.
We have some giant pumpkins growing in the area behind the goat yard in the Crean Family Farm!  (Thanks to volunteer Ronnie for doing such a great job with that garden!).  Drop by the Zoo November 20 & 21, 11am – 3pm to meet and talk to UC Master Gardeners. Get info for gardening enthusiasts, kids can learn a little something about agriculture, and you can ask them questions about the demonstration gardens.
Santa Ana Zoo has great volunteer opportunities!  Consider joining us to help educate school age kids, be a docent, drive the Zoofari Express train, help with special events, or even animal care. Throughout the year we have a variety of volunteer positions available.
See our website to learn more about volunteer opportunities, and join one of the best volunteer teams anywhere!