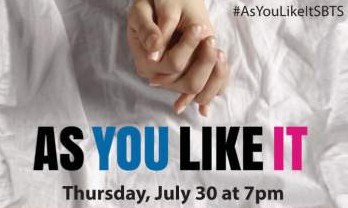 City of Santa Ana, Downtown Orange County
Community: THEATRE IN THE PARK: SHAKESPEARE'S MOST FAMOUS COMEDIES IN DTSA FOR FREE
Pack a picnic basket, bring your lawn chairs, and invite friends to experience a free live performance of "As You Like It" by the Shakespeare by the Sea Theatre company on Thursday, July 30th at 7:00 pm in downtown's Birch Park. One of Shakespeare's most famous comedies, "As You Like It" is where the saying "too much of a good thing" comes from.
The play focuses on Rosalind, one of Shakespeare's most recognized heroines. Testing the limits of love and loyalty, Rosalind is famous for her intelligence, quick wit, and beauty. This classic story entrains with twisted plots and surprises of mistaken identity.
For more information, contact Nick Galvan at (714) 647-6547 or click here.
See the event flyer here.
Birch Park is located at 210 N. Birch Street, Santa Ana, CA 92701 (corner of Third and Ross). Parking is available in structure across the street (entrance on Birch St).
###