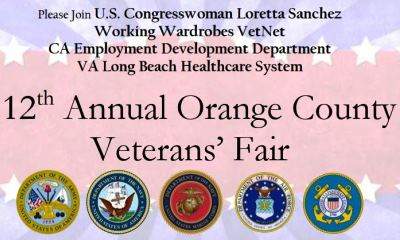 Congresswoman Loretta Sanchez, Representing California's 46th Congressional District
MEDIA ADVISORY, FOR IMMEDIATE RELEASE: July 24, 2015
REP. LORETTA SANCHEZ TO HOST ANNUAL VETERANS FAIR ON SATURDAY JULY 25, 2015
WASHINGTON – Congresswoman Loretta Sanchez (CA-46) will attend and speak at her 12th Annual Orange County Veterans Fair, on Saturday, July 25, 2015, from 9:00 a.m. – 10:00 a.m.  The event will continue to 1 pm.
The event will include free health screenings, employment and career workshops, housing resources, and many more services, including:
10 am Department of Veterans Affairs eBenefits & Claims Workshop
11 am Employment Panel
10 am & 11 am Career & Resume Workshop featuring CA EDD and Special Guest, Executive Career Coach and Consultant, Mike Marinoff – BRING YOUR RESUMES for Updating!
VA Mobile Health Bus: Free Health Screenings
VA Eligibility & Enrollment
Housing Resources
Meet Local Veterans Organizations
Small Playground for Children
FREE LUNCH!
Over 35 organizations including the Veterans Administration (VA) and local veteran groups will participate in the fair.
First Presbyterian Church, Grand Street Center, 145 N. Grand St, Orange, CA 92866.  Free Parking at Adjacent Parking Lot Across Grand.
Open to the Press and Public.  All Veterans in Orange County and their Families are Encouraged to Attend!
For more information, please contact: Sarah Lee, Office of Congresswoman Loretta Sanchez (714) 621-0102.  Click here to RSVP for the free workshops.
**Events are subject to change, please call the District Office at (714) 621-0102 to confirm prior to event**
###