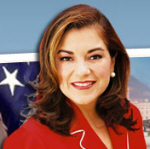 Congresswoman Loretta Sanchez, Representing California's 46th Congressional District
PRESS RELEASE, FOR IMMEDIATE RELEASE: July 23, 2015 MEDIA
CONTACT: Emily Morris, 202-225-2965, Emily.Morris@mail.house.gov
REP. LORETTA SANCHEZ SLAMS REPUBLICAN ANTI-IMMIGRANT BILL
WASHINGTON, D.C. – Congresswoman Loretta Sanchez (CA-46) today called out House Republicans for continuing to demonize hard-working, law-abiding immigrant and Latino families and advancing, H.R. 3009 'Enforce the Law for Sanctuary Cities Act'. Also known as 'The Donald Trump Act', this legislation undermines the decisions of local law enforcement around our nation about how to best police, protect and engage with their communities.
"This bill doesn't create any solutions— it's another example of how Republicans continue to block comprehensive immigration reform and spread harmful myths that immigrants are threats to the public. Extensive research shows that immigrants are less likely to commit serious crimes than native born citizens.
"Safety is improved by building trust in communities. I believe that local communities and local police are best equipped to determine for themselves which strategies will keep their unique communities safe, not Members of Congress in Washington desperate for media attention."
The Donald Trump act would withhold from local jurisdictions federal funds that are designated to strengthen public safety, support community policing, and assist crime victims.
Organizations opposing H.R. 3009 include:
Law Enforcement Immigration Task Force
Major County Sheriff's Association
Fraternal Order of Police
United States Conference of Mayors/National League of Cities
###
Congresswoman Loretta Sanchez is proud to represent California's 46th Congressional District, which includes the cities of Anaheim, Santa Ana, and parts of the cities of Garden Grove and Orange in Orange County. She serves as Ranking Member of the House Armed Services Subcommittee on Tactical Air and Land Forces and as the second ranked Democrat on the Committee on Homeland Security.