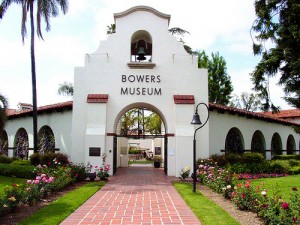 Santa Ana residents get to visit a couple local museums for FREE today!  Get out and go to the Bowers Museum and the Heritage Museum of Orange County TODAY.  Don't forget to bring an I.D. to get in free…
The Bowers Museum is pleased to offer free admission to Santa Ana residents, with proof of residency (e.g., driver's license, utility bill, etc), on the first Sunday and third Tuesdays of every month.
The Bowers is located at 2002 N. Main St, Santa Ana, CA 92706, (714) 567-3600.
Also, the next Target Free First Sunday is September 6th!  On the first Sunday of every month, visitors to the Bowers can enjoy free access to the museum, Kidseum, and all activities all day, thanks to the Target Corporation. Target Free First Sundays are very popular and to prevent overcrowding, visitors may have to wait outside for admission. The Cultural Festival begins at noon and activities will run until 4:00PM.  Click here for Cutural Festival details.
Also on September 6:
Heritage Museum of Orange County is pleased to offer free admission to Santa Ana residents on the first Sunday of each month. Heritage Museum of Orange County is a cultural and natural history center located on approximately 11 acres surrounding the beautiful 1898 Kellogg House. It includes an historic plaza complete with a number of structures from the 1890s, a working blacksmith shop, and extensive orchards and gardens. A Victorian gazebo and a formal rose garden highlight the plaza area. A nature park covers several acres of the property and includes Santa Ana's only freshwater marsh as well as the highest point of land in the city.
Location : 3101 West Harvard (Near Fairview) Santa Ana, CA 92704 Tel. (714) 540-0404.