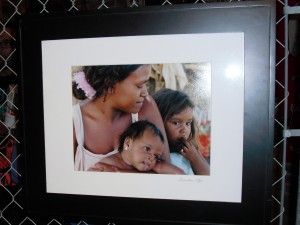 The highlight of Saturday night's "Art Walk" didn't even take place within the Artist Village.  Hands down the highlight of the evening was Sal Rojas' Afro-Mexican photography exhibit held at wonderful little store, Calacas, located at 324 W. 4th Street #B in downtown Santa Ana.
The exhibit, which was presented by BrownPride.com, was called "The Third Root | La Tercera Raiz" and "captures the life of Afro-Mexicans and their communities".  Rojas did a magnificent job with the photos that bring to life the Afro-Mexican culture.
Afro-Mexicans make up more than 5% of Mexico's population; yet remain invisible to the majority of Mexicans.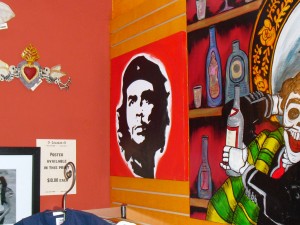 Che lives at Calacas in Santa Ana!
Besides getting to enjoy the wonderful photography exhibit I got to browse around this terrific little store full of products that celebrate the cultures of Latinos and the indigenous people of this area.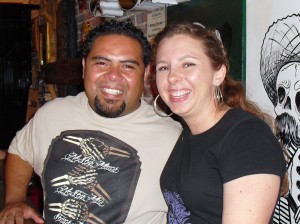 Calacas owners Rudy and Jackie Cordova
I also had a chance to meet the stores owners Rudy and Jackie Cordova and they are two of the nicest people you'll ever meet.  If you get a chance make sure and stop by their store which is open Monday-Saturday 10AM to 6PM.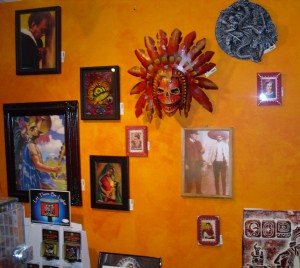 Just some of the many awesome Latino products at Calacas in Santa Ana
Remember if our dreams of a new Santa Ana are going to come to fruition we need to make sure we patronize our local businesses.  Calacas is yet another hidden gem right here in Santa Ana.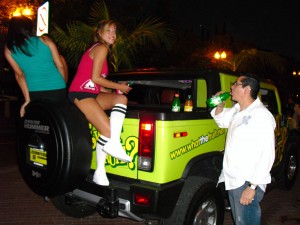 Even the Jarritos Hummer showed up at Calacas!
Big thanks to Sal Rojas and the Cordova's on helping making the "Art Walk" a truly enjoyable experience!