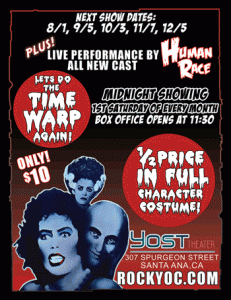 Let's do the time warp again – in Santa Ana!
The original Rocky Horror Picture Show movie is playing TONIGHT at Santa Ana's Yost Theater, at 12 midnight.
The Yost Theater is located at 307 Spurgeon St., in downtown Santa Ana.  The Rocky Horror Picture Show is presented every first Saturday of the month, at 12 midnight.
There will be a shadow cast leading the audience participation.  Click here to download the audience participation guide.