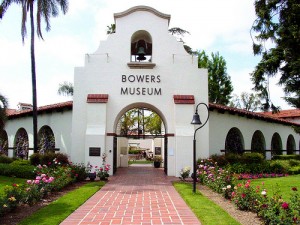 Santa Ana residents get to visit a couple local museums for FREE today!  Get out and go to the Bowers Museum and the Heritage Museum of Orange County TODAY.  Don't forget to bring an I.D. to get in free…
The Bowers Museum is pleased to offer free admission to Santa Ana residents, with proof of residency (e.g., driver's license, utility bill, etc), on the first Sunday and third Tuesdays of every month.
The Bowers is located at 2002 N. Main St, Santa Ana, CA 92706, (714) 567-3600.
Also, the next Target Free First Sunday is September 6th!  On the first Sunday of every month, visitors to the Bowers can enjoy free access to the museum, Kidseum, and all activities all day, thanks to the Target Corporation. Target Free First Sundays are very popular and to prevent overcrowding, visitors may have to wait outside for admission. The Cultural Festival begins at noon and activities will run until 4:00PM.  Click here for Cutural Festival details.