The nationwide homebuilder Taylor Morrison has apparently acquired the vacant lot at 2525 N. Main St., in north Santa Ana, adjacent to Santiago Park.
You might recall that previously a different developer tried to build a luxury apartment project at that location but the neighborhood NIMBYs in the Park Santiago Neighborhood were able to shut down that development.
The previous developer eventually had to raze the office building at that lot when the local homeless vagrants kept causing problems there including setting it on fire.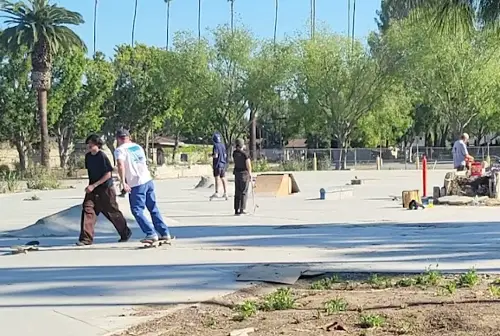 There is now an unofficial skateboard park on the concrete pad where the office building once stood. The police periodically chase out the skateboarders but they just come back.
Opposing the apartments completely backfired as it will resulted in more malicious mischief by transients. The only entity to benefit from all this has been the Discovery Cube as they have been using the parking lot at the location for overflow parking. Currently that lot is full almost all day due to the ongoing Bubblefest event at the Discovery Cube.
Taylor Morrison will be holding a community meeting about the new proposed townhome community at 2525 on April 20 at the First Congregational Church of Santa Ana, located in the Park Santiago Neighborhood at 2555 Santiago Street, from 6 to 7:30 p.m. You can RSVP by emailing Uriel Zamarripa at tmsantaana92705@gmail.com or by calling 714-623-7512.
Hopefully the Park Santiago NIMBYs will not cause this developer any trouble. We need more housing in Santa Ana and this development will generate much needed tax revenue for the City of Santa Ana. Building townhomes on this vacant lot will also reduce crime caused by the vagrants who are currently hanging out there.