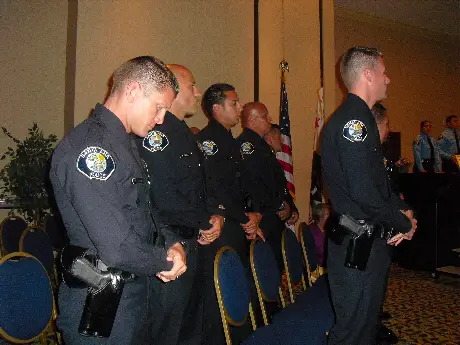 The Santa Ana Police Department held their 24th Annual Employee Recognition and Awards Ceremony last night, at the DoubleTree Hotel in Santa Ana.
Deputy Chief Carlos Rojas welcomed the attendees as he explained that "Tonight we are recognizing 52 (fifty-two) current and former employees for their exceptional contributions to public safety in Santa Ana during 2010."
Rojas also thanked the SAPD's community sponsors such as David Grant of South Coast Plaza Security, the Santa Ana Police Officers Association, Sheffield Limited/Aborn Powers Incorporated, Santa Ana Police Towing Association, Maybelle and Sebastian Paul Musco of Gemini Industries, S&A Property Management, Doubletree Hotel, Original Mike's Restaurant, Senator Lou Correa, Western Medical Center, Macres Florist, and others who were mentioned in the event program.
Several local elected officials were there, including:
State Senator Lou Correa
Santa Ana Mayor Pro Tem Claudia Alvarez
Santa Ana Council Members Vince Sarmiento and Carlos Bustamante
SAUSD Board Members Rob Richardson and Jose Hernandez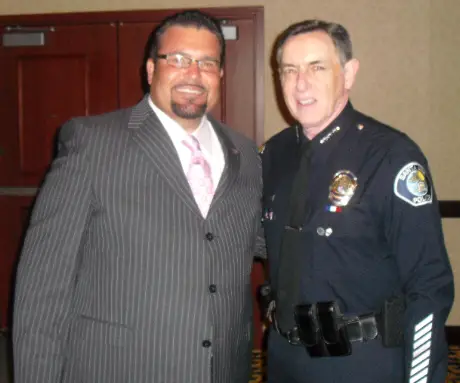 Other VIPs included:
Former O.C. Supervisor Todd Spitzer
SAUSD Superintendent Jane Russo
SAUSD Deputy Superintendent Cathie Olsky
Santa Ana Planning Commissioner Sean Mill
Former Santa Ana City Manager Dave Ream
Santa Ana Public Works Director Raul Godinez II
Correa paid tribute to the officers who have fallen in the line of duty.  He mentioned that the City of Santa Ana has had the biggest drop in crime in Orange County, according to the latest FBI Uniform Crime Report and he thanked the SAPD officers for that achievement.  He also said that his four kids all go to local SAUSD schools and they all walk home after school and are always safe.
Alvarez was introduced by Rojas as "one of us" because of her work as an Orange County Assistant District Attorney.  She stayed on stage, along with Sarmiento, to personally thank each officer who received an award.  Bustamante left the event early.
The emcee was Michele Gile, a news anchor for both KCAL Channel 9 and CBS Channel 2.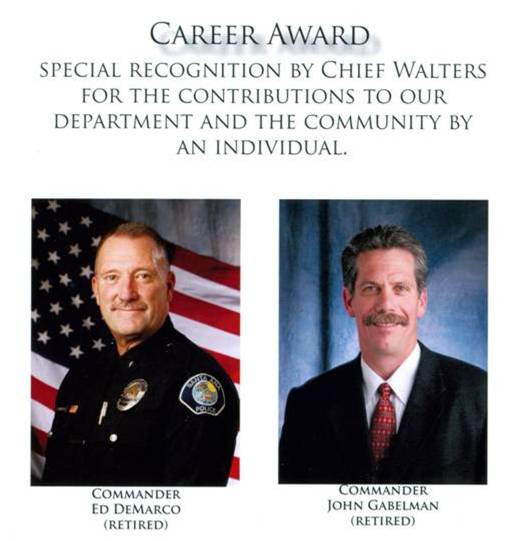 To begin the awards ceremony, two former employees were recognized for their contributions to the department and the community.
First was Retired Commander John Gabelman. John served for many years as a member of the SWAT team eventually rising to the rank of SWAT Commander.Retired Commander Ed Demarco also received the Chief's Award for his many years in Special Investigations.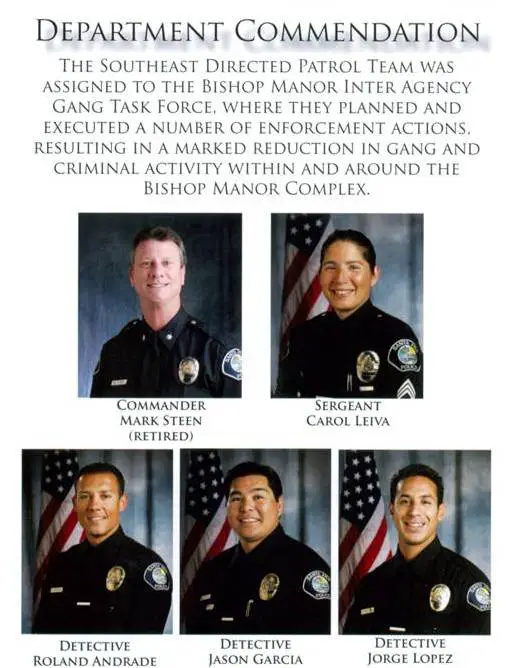 The next award of the evening was the Department Commendation.  Formerly known as the Class "A" Commendation, this award recognizes outstanding and exceptional work that is beyond the call of duty and which directly enhances the image and operation of the Police Department.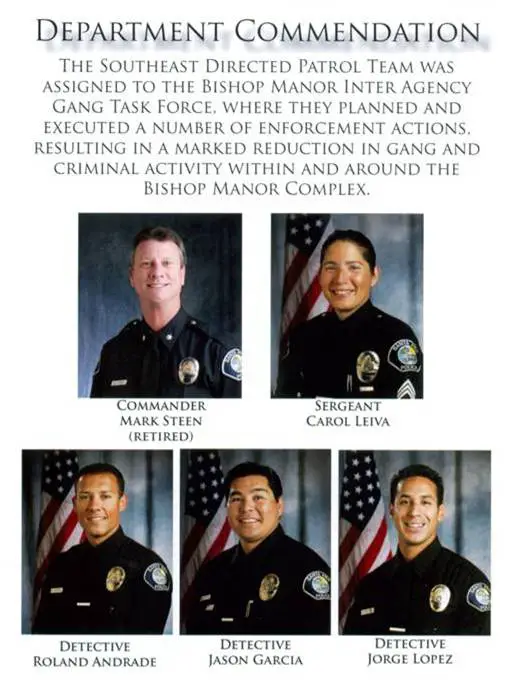 Department Commendations were awarded to:
Sergeant Richard Gatto – Ran the SAPD Narcotics Unit
Detective Corporal Oscar Lizardi – Caught a serial robber/rapist
Detective Edward Zaragoza – Caught a serial robber/rapist
Commander Mark Steen – Bishop Manor Task Force
Sergeant Carol Leiva – Bishop Manor Task Force
Detective Roland Andrade – Bishop Manor Task Force
Detective Jason Garcia – Bishop Manor Task Force
Detective Jorge Lopez – Bishop Manor Task Force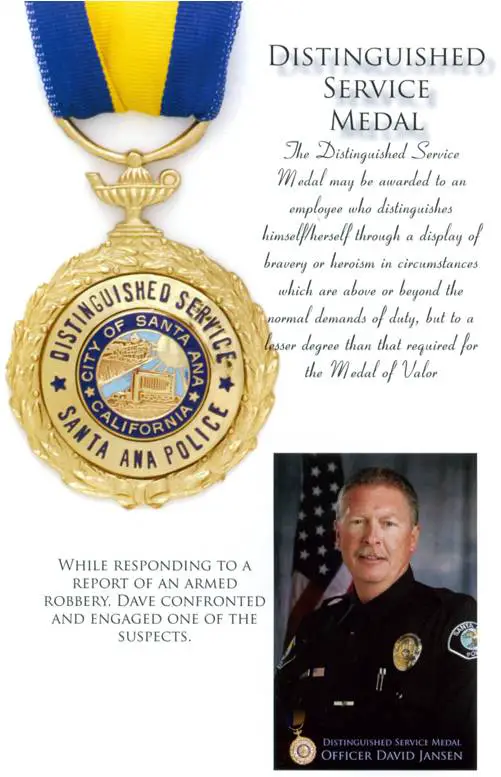 A Distinguished Service Medal was awarded to Officer David Jansen – he responded to a report of an armed robber and confronted and engaged one of the subjects.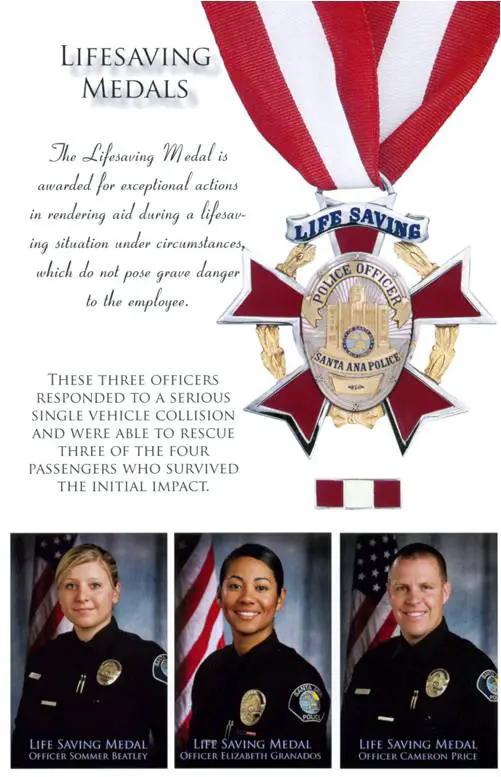 Lifesaving Medals were presented to three officers who responded to a serious car accident and were able to rescue three of the four passengers, who survived the initial impact, as follows:
Officer Sommer Beatley
Officer Elizabeth Granados
Officer Cameron Price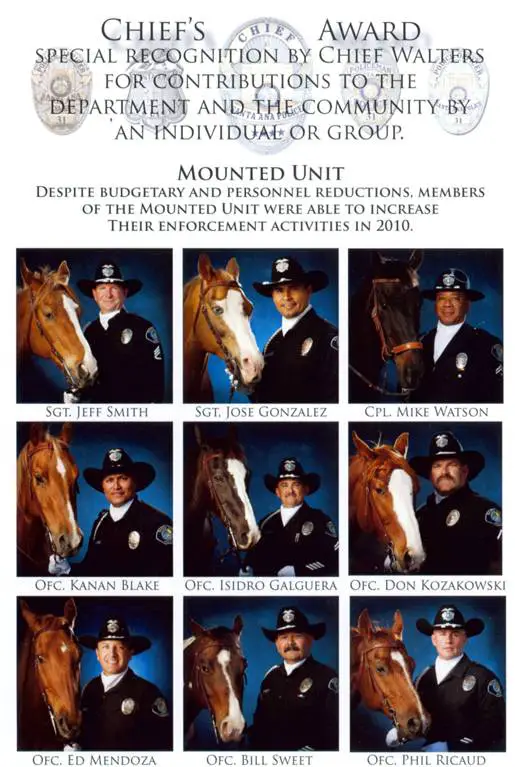 The SAPD Mounted Unit was also honored.  These officers include:
Sergant Jeff Smith
Sergeant Jose Gonzalez
Corporal Mike Watson
Officer Kanan Blake
Officer Isidro Galguera
Officer Don Kozakowski
Officer Ed Mendoza
Officer Bill Sweet
Officer Phil Ricaud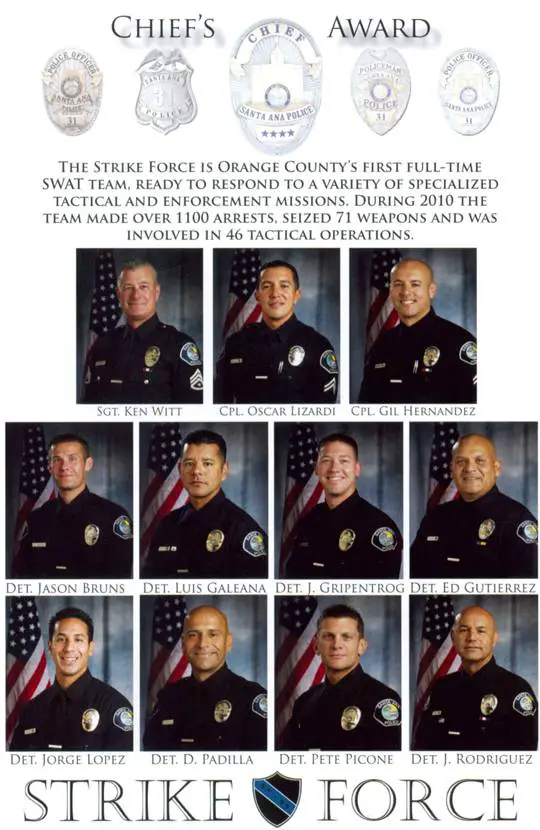 A Chief's Award was presented to the SAPD Strike Force, or SWAT Team, which includes:
Sergeant Ken Witt
Corporal Oscar Lizardi
Corporal Gil Hernandez
Detective Jason Bruns
Detective Luis Galeana
Detective J. Gripentrog
Detective Ed Gutierrez
Detective Jorge Lopez
Detective D. Padilla
Detective Pete Picone
Detective J. Rodriguez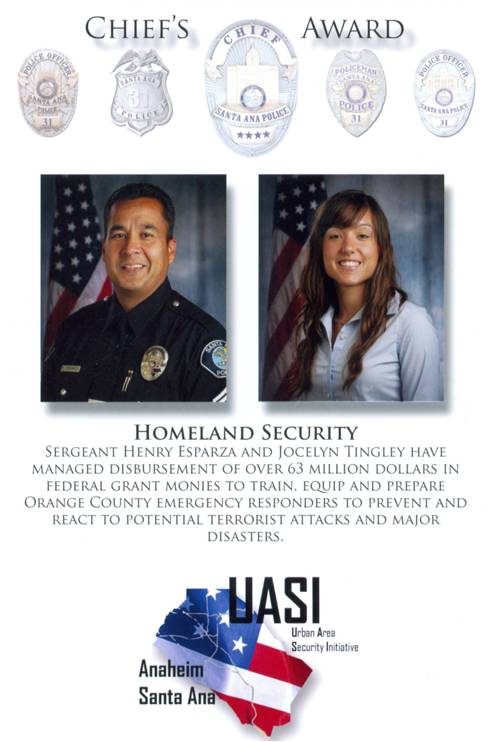 Chief's Awards were also presented to:
School Police Commander David Valentin
Corporal Eric Demopoulos, Computer Crimes
Homeland Security, Sergeant Henry Esparza
Homeland Security, Jocelyn Tingley
Employees of the Year were also recognized, including:
Glenn Beach, Non-Sworn Supervisor of the Year
Sue Buckle, Records Specialist of the Year
Rosemary Lopez, Non-Sworn Employee of the Year
Carol Casey, Dispatcher of the Year
Mary Castillo, Correctional Supervisor of the Year
Pedro Jiron, Senior Correctional Officer of the Year
Michelle Montreal, Correctional Officer of the Year
Jessica Moreno, Correctional Records Employee of the Year
Troy Guidry, Sergeant of the Year
Mel Sarabia, Corporal of the Year
Dan Aguilar, Detective of the Year
Rene Cervantes, Traffic Officer of the Year
Robert Pendergraft, Reserve Officer of the Year
Jose Mendoza, Officer of the Year
It was a great event and many of the officers were accompanied by their families.  Kudos to Chief Walters for taking the time to honor the fantastic officers in his department.  (His wife even participated as her band, Cheap Date, provided the musical entertainment).