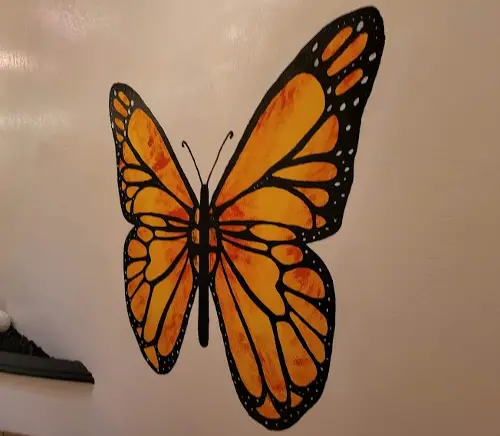 Irvine's loss turned out to be a big win for Santa Ana. Three Roots Mexican Cocina was located in Irvine mostly because they got a good deal on their rent. However that deal ended and their landlord sought to triple their rent. So they moved to the MainPlace Mall – into the pad that had been abandoned a while ago by Olive Garden when they moved across the street to the City Place.
They have been decorating the restaurant with custom art including a beautiful butterfly mural that hearkens back to the millions of Monarch butterflies that fly every year on a remarkable 2,500-mile journey from the northeastern United States and Canada to their ancestral wintering grounds in the volcanic mountains of central Mexico.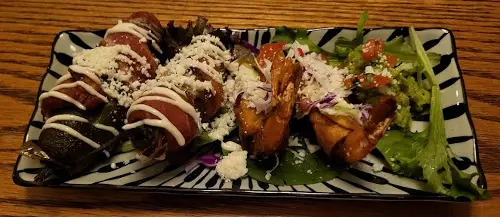 Three Roots is owned by three friends who found themselves displaced by the COVID-19 pandemic, which ended their jobs in the local restaurant industry. Jorge Hernandez hails from Mexico City; Juan Lopez, the Three Roots Head Chef, is from Michoacán and Enrique Zamora is from Veracruz. Each of them brings a specific expertise to Three Roots. Hernandez says that Mexico City is known for amazing tacos; Lopez is an expert in carnitas, which are famous in Michoacán and Zamora knows all about the dishes Veracruz is famous for.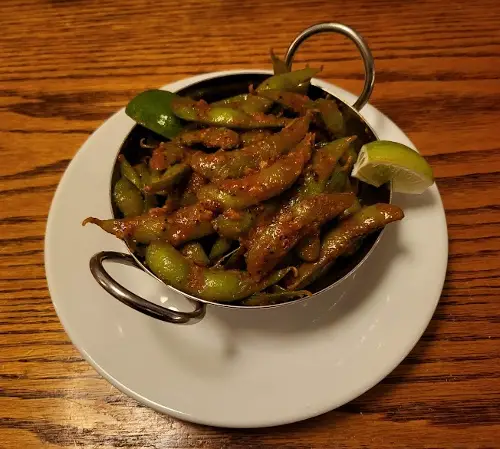 You know you are in for a different experience when you first take a seat at Three Roots. Instead of bringing out tired chips they serve "Chicharrones de harina" which are light and crispy wheat chips in the form of puffy pinwheels. They serve them with Valentina Salsa, an original Mexican brand that is considered the "Mom and Dad" of Cholula and Tapatio.
Appetizers include delicious bacon wrapped jalapenos stuffed with cream cheese and Chori-queso, a popular melted cheese dish made with a blend of Oaxacan cheese, jack cheese, chorizo and vegetables. The steamed soy bean appetizer was served with a spicy chili and garlic sauce featuring chiles de árbol.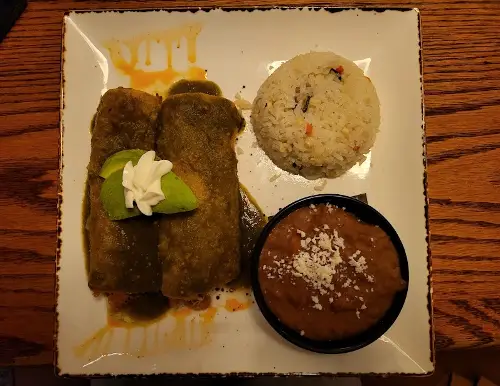 The entrees include various enchiladas including Lobster Enchiladas and Surf/Turf Enchiladas. When we visited Three Roots my son ordered the Enchiladas Suizas. They were accompanied by very tasty rice and refried beans. My son really dislikes rice that has too much tomato. Such is not the case at Three Roots. Their rice is very flavorful without turning into the orange Mexican rice served at most Mexican restaurants. The enchiladas were very tasty and quite unlike what is served at American style Mexican restaurants like El Torito.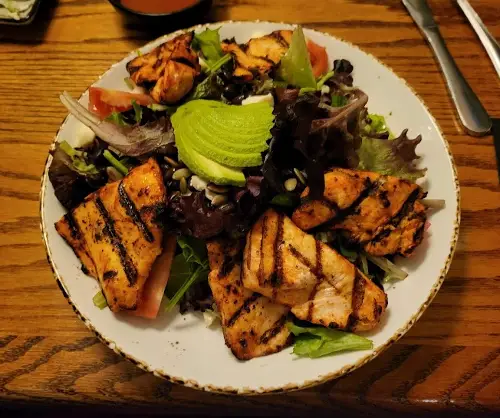 My wife and I like to eat light. I ordered the Three Roots Mexican Salad with grilled chicken. It was one of the best salads I have ever had. I loved the pepita dressing, the black beans, sliced avocado and the chopped boiled egg but the grilled chicken was the topper. The salad had a generous amount of chicken and you could see the grill marks. It was very flavorful.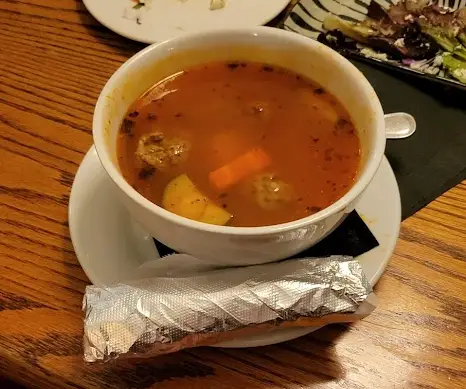 My wife ordered the Albondigas Soup. Albóndigas are the Spanish version of meatballs. The name comes from Arabic word al-bunduq, which derives from the Greek word for hazelnut, suggesting that the meatballs are of the same shape and size. The Moors, who are Arabs from Africa, conquered Spain and were there for 800 years. They left behind architecture, language and food that we still enjoy today. The Albondigas Soup at Three Roots includes squash and carrots in an incredible broth and of course yummy meatballs.
Other entrees we look forward to trying include Michoacan Style Carnitas; Chili Verde; Camarones Endiablados and Seafood Rellenos (two poblano peppers stuffed with lobster and shrimp, garlic, white wine and a reduction of mezcal chile sauce).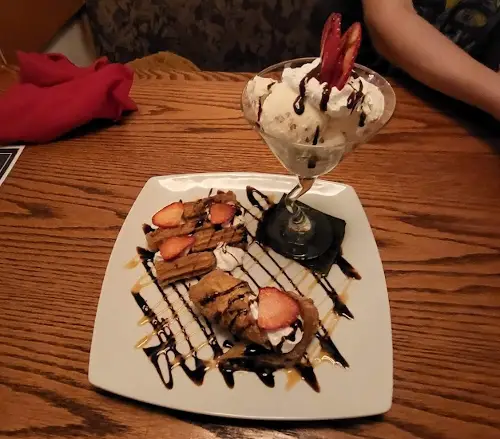 We normally don't have much room for dessert but Jorge wouldn't let us leave without a sweet ending. It was worth it! Their desserts include a Chocolate Banana Chimichanga; Churros and gourmet ice cream from La Michoacana. On this particular evening that was the walnut ice cream and it was amazing. Of course all of the sweets were drizzled in chocolate sauce – just what my wife loves!
Be sure to follow Three Roots on Facebook so you don't miss any of their specials such as their Happy Hour during the week from 2 pm to 6 pm that includes $3 off Margaritas and $5 draft beer.
You can check out their very positive reviews on Yelp too.