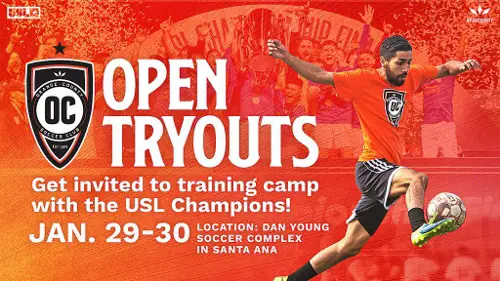 On Saturday January 29th, the 2021 USL Champion Orange County Soccer Club is holding an open tryout to identify and sign qualified players to train with and play with the first team. This is the first time the club has held an open tryout in Santa Ana.
They are expecting 200 players from Orange County and surrounding areas and a few from even further away including a handful of international players. This is a great opportunity for players to test their skills, get evaluated by professional coaches and earn an opportunity to play for a professional soccer contract.
One player is guaranteed an invite to train with the first team in spring training. For eleven consecutive seasons at least one player has received an invitation to spring training and in some cases players have gone on to earn full-time contracts. Three players were selected in 2021 – and this year they are expecting to invite 3-5.
The tryout is open to players 18 and over. Participants will play in 30-minute games (with subs) 11v11 soccer matches plus technical and tactical skill assessment. The team will also hold a Boys ID Camp on February 12th to identify younger players for the club's USL Academy teams.
You can find more information on the Boys ID Camp here – https://www.orangecountysoccer.com/camps.
WHO: Orange County Soccer Club
WHAT: Orange County Soccer Club is holding an open tryout to find new local talent. 30-minute games (with subs), 11v11 soccer matches plus technical and tactical skill assessment. (One player is guaranteed an invite to train with the first team in spring training.)
WHEN: Saturday January 29 & 30, 9am – 1pm (Check-in begins at 8:15am)
WHERE: Dan Young Soccer Complex Fields 1-3
ADDRESS: 3190 W Edinger Ave Santa Ana CA 92704
PARKING: Parking is free