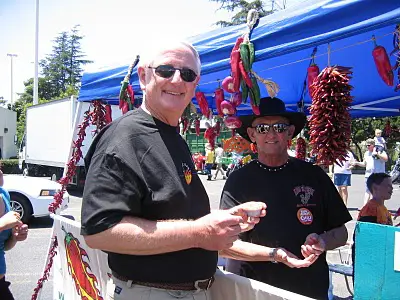 Longtime Santa Ana City Manager Dave Ream has at long last decided to retire, according to the O.C. Register.  He will remain as a consultant through May – and make another $25K in the process, but then he will be, at last, gone – without a severance check.
Ream told the Register that his "proudest achievements included the redevelopment of Fashion Square into MainPlace Mall, the construction of more than a dozen public schools, the creation of a network of neighborhood associations to foster communication between residents and city departments, the building of a new police facility and the continuing Bristol Street widening."
I wonder if the current City Council majority will continue to fund the neighborhood associations, given the red ink at city hall?
What else has Ream accomplished over the years?  His "accomplishments" include:
Medians along 17th St. that we did not want and did not need.  These medians will keep costing our city, and our taxpayers, a fortune, in perpetuity, to maintain.  However, they do serve as a moat for the folks who live in Floral Park, so I guess there is an upside for them.
A widened Bristol St. that primarily serves Mater Dei High School.  It is not done yet.  It may not be done in Ream's lifetime.  A whole lot of money has been spent here.  Most definitely questionable!
The Artists Village.  Ream, along with the City Council and Mayor Miguel Pulido, made this happen.  It has worked to a great extent, to change our downtown, but now many of the artists are feeling the squeeze.  This chapter is far from over.
A very nice city yard – that cost a bundle.  Some say the costs for this yard were buried in our public works budget.
New developments that focused on fairly high-cost townhomes, lofts and towers, such as the CityPlace and the Santiago Lofts.
A nice soccer complex at Centennial Park.
Repaved streets – but that too took awhile.
The highest water prices in Orange County.
We kept the U.S. Court of Appeals.
We lost a lot of big retailers to other nearby cities.
Our City Council majority surely needs to get a lot of credit for moving Ream along – as well as most of his crew.  The only one left is Jill Arthur.
I am hoping that our Public Works Director, Raoul Godinez, will be tabbed to replace Ream.  Godinez worked for Jerry Brown, in Oakland.  He brings a lot of experience as both a former elected official and a city administrator to the table.
The Liberal OC blog reported tonight that Santa Ana Councilman Carlos Bustamante "has volunteered to put together a "Roast" to recognize Ream's 32 years of service to Santa Ana."  If that comes to pass we will be sure to pass that information along to our readers.