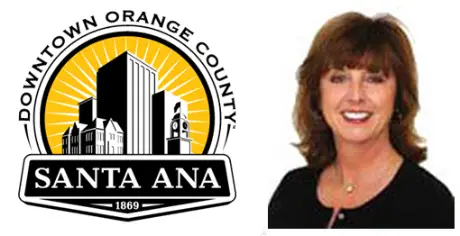 I ran into a senior employee of the City of Santa Ana today, who told me that Cindy Nelson, the head of the City's Community Development Agency, whose title is "Deputy City Manager for Development Services," decided to retire on Friday of this week – and that this is public information.  Apparently her letter of resignation was received at City Hall and she is no longer an employee of the City.
Nelson made headlines recently when she refused to answer questions about the now-defunct trial valet parking program in Downtown Santa Ana.  She also has been clashing with the Santa Ana City Council over allegations that vast amounts of public money have been spent by her department, without Council oversight.   I just wrote about that yesterday.  You can read my post by clicking here.
I don't know if her sudden retirement is due to her dispute with the City Council.  I have not verified this with any of the Council Members.
I suspected something like this was brewing but was still surprised by the suddenness of her retirement.
This comes at an awkward time as new California Governor Jerry Brown is making noise about getting rid of the many city redevelopment agencies in California, by taking their money, ostensibly to fill the State's empty coffers.
I worked with Nelson many years ago when I was the head of Santa Ana Neighborhood Housing Services's Board.  That organization is now known as the Orange County NHS.  She left the City of Santa Ana briefly a few years ago to work on the Nexus Towers project, then returned to the City when that project switched to rental units.
Nelson is a board member of the California Redevelopment Association.  Here is her bio as it appears on their website:
Cindy Nelson brings more than 30 years of community development-related public service to the Board. This will also be Cindy's second time serving on the CRA Board.
She currently oversees Santa Ana 's redevelopment and economic development programs as well as its community development and American Recovery and Reinvestment Act programs. She also manages the City's Emergency Services Grant, federal job training, and business retention and attraction programs, and one of three WORK (Work, Opportunity, Resources, and Knowledge) Centers in the county of Orange . Cindy has more than 22 years of experience with the City of Santa Ana in two different stints. Prior to Santa Ana , she spent four years at the City of Long Beach as its Downtown Manager.
In Santa Ana , she has been instrumental in the expansion of the Bowers Museum as a world-class art institute; managed the development of Westfield MainPlace Mall; negotiated and developed the Santa Ana Auto Mall; initiated various commercial and residential loan programs; and gained approval for one of the first State Enterprise Zones and Federal Empowerment Zones.
Cindy's first tour on the CRA Board was from 1991 to 2000, and she served as President from July 1993 to June 1994. She was also President for CALED during that same time period.