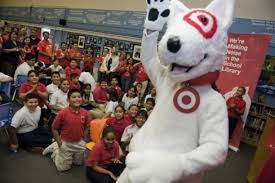 Contact: School Contact, Deidra Powell, (714) 558-5555
Target Media Hotline, (612) 696-3400
Taft Elementary / Taft Deaf and Hard of Hearing in Santa Ana, CA Celebrates the Unveiling of a Newly Renovated Library from Target and The Heart of America Foundation
Makeover includes 2,000 new books and technology upgrades
What: Target (NYSE:TGT) and The Heart of America Foundation will unveil a newly renovated library at Taft Elementary/Taft Deaf and Hard of Hearing. Several hundred volunteer hours were invested in the redesign and construction of the library space, which features 2,000 new books, furniture, carpet and shelves, and a complete technology upgrade, including new iPads interactive white boards and more. By reimagining school libraries and transforming outdated spaces into state-of-the-art learning centers, Target continues to foster a love of reading in students across the country.
This year, Taft Elementary/Taft Deaf and Hard of Hearing is one of 25 elementary schools across the country to receive a new library as part of the Target School Library Makeover program, which will culminate with the celebration of the 200th School Library Makeover on November 14, a major program milestone. Through programs like this one, Target is on track to give $1 billion for education by the end of 2015.
Who: Santa Ana Unified School District Board of Education and Educator
Steven Longacre, Principal
Taft Elementary/Taft Deaf and Hard of Hearing Students and Parents
Target and The Heart of America Foundation Volunteers
When: Thursday, October 2nd, 2014
· Target Volunteers putting finishing touches on library space: 9:00-10:15 AM
· Ribbon Cutting and Remarks: 10:30 AM
Where: 500 W. Keller Ave. Santa Ana, CA 92707
Visual: Volunteers shelving books, arranging furniture and decorating the library before students arrive, a ribbon cutting ceremony with teachers and staff seeing the library for the first time.
#TargetSLM