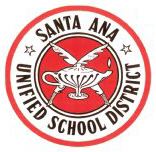 FOR IMMEDIATE RELEASE: September 23, 2014
Contact: Deidra Powell, Chief Communications Officer, (714) 558-5555, (714) 673-4995
Download SAUSD's New Free Mobile App
The Santa Ana Unified School District has a new Mobile App available in the Apple and Google Play Store for free. It features daily news, photographs, and videos of the students and staff that comprise the district. By simply typing Santa Ana Unified in the app store or SAUSD, the user can download the app and begin immediately staying connected with the district and the schools of their choice.
"In an effort to continually improve our communication with our parents, employees, and general community, we are providing this app as another option for them to stay informed about what's going on in our schools," said Superintendent Rick Miller, Ph.D.
Santa Ana Unified School District (SAUSD) educates approximately 53,000 students at 61 school sites throughout the Santa Ana community. The K-12 school district is the largest in Orange County and the second largest employer in Santa Ana, with approximately 4,500 educators and staff members. Contact us at 714-558-5555, or deidra.powell@sausd.us for more information.
###