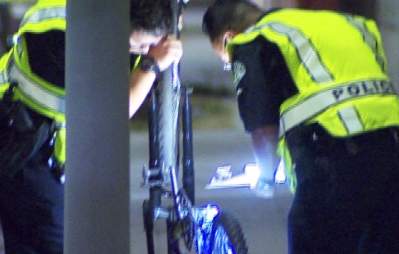 Gerardo Mouet, executive director of the City of Santa Ana's parks, recreation and community services agency, told the OC Register this week that "Santa Ana is the county seat and the most urban section in the county. Biking and walking in an urban setting is of growing interest, and Santa Ana is a great place to illustrate this trend to the entire county."
Mouet is very proud of the fact that Santa Ana will be hosting Orange County's first ever Ciclovia – an open streets event where the streets will be closed to cars and opened to bikers, walkers and runners. SOMOS or "Sunday On Main Open Streets" is scheduled for Sunday, October 5, 2014 from 9 am to 4 pm.
But here is the problem – the City of Santa Ana has a mandatory bike registration program in place that is run by the Santa Ana Police Department.  If your bike is not registered with the police they can stop you and actually give you a pricey ticket! Hardly any of our residents know about this program.   How many people are they going to ticket at the Ciclovia?  
There is no good reason for this program to be mandatory!  It should be voluntary.  This is ridiculous and I am not happy that our City Council and City Manager are OK with this situation.  I suggest we all boycott the Ciclovia until such time that the City of Santa Ana changes the mandatory bike registration program to a voluntary program.
There is no way the City of Santa Ana will change this program unless we demand it.  Here is their contact information:
Here are the details regarding the SAPD's mandatory bike registration program:
You must have a bike license if you own a bicycle in the city of Santa Ana.
Helmets are required for bike riders under 18 years of age.  Helmets are also required if you use a razor scooter, roller skates, roller blades, and skateboard (California Vehicle Code 21212a).
There is no fee and no appointment is necessary to register your bicycle.  If you are an adult, you must bring photo identification.
Bicycle Licenses are issued:
MONDAY – FRIDAY
7:30 a.m. to 5:30 p.m.
NO CHARGE
NO APPOINTMENT NECESSARY
(714) 245-8200
at: Santa Ana Police Department at 60 Civic Center Plaza, in Santa Ana.