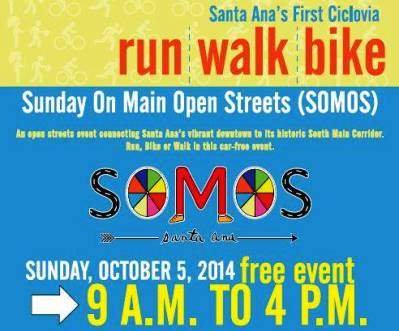 City of Santa Ana
Community Alert: CITY OF SANTA ANA TO HOST THE COUNTY'S FIRST FREE CICLOVIA, SOMOS, SUNDAY, OCTOBER 5 FROM 9AM TO 4PM
SANTA ANA, CA (September 25, 2014) – The City of Santa Ana is proud to host Orange County's first ever Ciclovia – an open streets event where the streets will be closed to cars and opened to bikers, walkers and runners. SOMOS or "Sunday On Main Open Streets" is scheduled for Sunday, October 5, 2014 from 9 am to 4 pm.
The 3 mile route in Santa Ana includes Orange County's hottest downtown, as named in Orange Coast magazine, the Historic Old City Hall just south of Third Street and the Historic South Main Business District. This route connects Historic south Main Street with the City's vibrant downtown. The event is free and participants are encouraged to come out and run, bike or walk the route. Entertainment and activities such as 15 minute sessions of zumba, a karaoke stage and various children activities will also be featured throughout the route.
To accommodate the event, Main Street will be closed from the south side of 5th Street to the north side of Warner on October 5, 2014 from 7am until approximately 6pm. Street closures will extend one block each side of Main Street. To mitigate traffic impacts, there will be controlled vehicular crossings at First Street, Edinger and McFadden.
Bus detour information is also attached. For more information on this event, such as parking maps, activity centers and more please visit http://santa-ana.org/parks/somos or contact Gerardo Mouet at (714) 486-4732.
###
WARNING:
You must have a bike license if you own a bicycle in the city of Santa Ana.
Helmets are required for bike riders under 18 years of age.  Helmets are also required if you use a razor scooter, roller skates, roller blades, and skateboard (California Vehicle Code 21212a).
There is no fee and no appointment is necessary to register your bicycle.  If you are an adult, you must bring photo identification.
Bicycle Licenses are issued:
MONDAY – FRIDAY
7:30 a.m. to 5:30 p.m.
NO CHARGE
NO APPOINTMENT NECESSARY
(714) 245-8200
at: Santa Ana Police Department at 60 Civic Center Plaza, in Santa Ana.