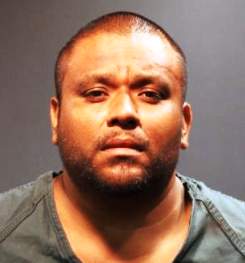 Santa Ana Police Department
Advisory: SAPD Robbery Detectives Identify Suspect in Food 4 Less after community members sees suspect during TV News story.
Arrested: Antonio Delgado Juarez (35) Santa Ana
Details: On 9/25/14, SAPD Robbery Detectives requested the media and community's assistance in identifying a suspect involved in the 9/18/14 robbery of a Food 4 Less grocery store. After the story aired on television (unknown which Station), detectives received a tip from a community member who advised that they had watched the story and believed they knew who the suspect was. Detectives were provided information that led them to suspect Antonio Delgado Juarez. The Detectives found that suspect Juarez was already in SAPD custody on an unrelated incident. On 9/22/2014, Juarez was taken into custody by SAPD for Burglary, Battery and Possession of Burglary Tools.
Antonio Delgado Juarez has been positively identified by the victim and witnesses as the suspect in the Food 4 Less robbery. Detectives have added the charge of Commercial Robbery and Car Jacking. They will be submitting the case to the Orange County District Attorney for filing. The victim's vehicle remains missing.
###