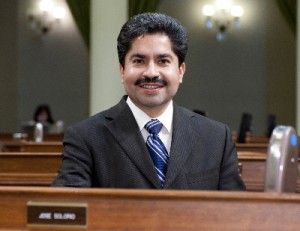 FILE: Assemblyman Solorio on the Assembly Floor. 
For Immediate Release: November 9, 2011
For More Information Contact: Carol Chamberlain – office: (916) 319-2069, mobile: (916) 804-5355
State's Department of Water Resources Heeds State Assemblyman Jose Solorio's Call to Pay OC for Flood Control Projects
Already arriving reimbursement funds will total $51.8 million by end of January
Anaheim – State Assemblyman Jose Solorio's (D-Anaheim) pursuit to find more state resources for the cash-strapped County of Orange has led to a significant payout to the county by the State of California. Flood control "subvention" claims from Orange County to the state totaling approximately $80 million are on their way, with $51.8 million, representing six Santa Ana River claims, in county coffers by the end of January. These represent funds that had previously been stalled at the state for several Santa Ana River and main-channel project claims.
"As soon as I learned about these outstanding claims, I immediately contacted the Department of Water Resources (DWR) to encourage a prompt payment. I'm grateful the state understands that these claims need to be paid, and is moving forward on that commitment by getting those payments in the mail," says Solorio. "These funds should substantially help Orange County's cash flow for the year."
To read the Department of Water Resources response to Assemblyman Solorio's inquiry into flood control subvention claims, click here.
To counter balance a $48 million shortfall the county suffered as a result of the state reneging on vehicle license fee distributions previously paid to the county this year, Assemblyman Solorio worked with county officials to develop options to address the unanticipated cut and identify other ways to get funds to Orange County. He learned that the County was owed significant amounts of money from the state and immediately requested DWR to start payment on Orange County's aging, flood subvention claims for projects long completed.
Since Assemblyman Solorio's intervention in early October, DWR has already made the first payment of $4.8 million in subventions reimbursements.
"These Subventions Program payments are monies owed, and Orange County desperately needs that money now," Assemblyman Solorio emphasized. "Honoring Subventions Program claims does not absolve the state from taking Orange County's vehicle license fee revenue. That battle continues."
DWR, along with the Central Valley Flood Protection Board, provide financial assistance to local agencies cooperating in the construction of federally authorized flood control projects. The Central Valley Flood Protection Board administers the State financial assistance for Central Valley flood protection projects while DWR is responsible for disbursing funds for all other State authorized projects.
The funds are available due to the passage of previous propositions including Proposition 1E, The Disaster Preparedness and Flood Protection Bond Act of 2006, which authorized $4.09 billion in general obligation bonds to rebuild and repair California's most vulnerable flood control structures to protect homes and prevent loss of life from flood-related disasters, including levee failures, flash floods, and mudslides, and to protect California's drinking water supply system by rebuilding delta levees that are vulnerable to earthquakes and storms.
Assemblyman Solorio chairs the Assembly Insurance Committee and the Select Committee on Regional Approaches to Addressing the State's Water Crisis. He represents the 69th district, including the cities of Anaheim, Garden Grove and Santa Ana.
###
State Assemblyman Jose Solorio represents the cities of Anaheim, Garden Grove and Santa Ana. To learn more about State Assemblyman Solorio and his legislative work, visit his official website. This e-mail communication was authorized and paid for by Jose Solorio Assembly Officeholder Committee, ID 1337257, P.O. Box 26063, Santa Ana, CA, 92799.