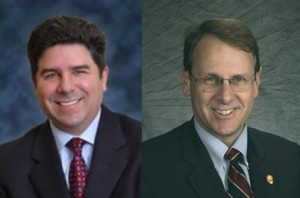 The O.C. Supervisors are finally going after Assistant County CEO Rob Richardson, who is also a Trustee on the SAUSD School Board.  "Nelson and Bates recommend demoting Assistant CEO Rob Richardson and revoking a 13.1 percent unjustified raise given to Deputy CEO for Infrastructure Alisa Drakodaidis," according to the O.C. Register.
Why is Richardson in trouble?  Check this out – "Richardson saw his pay increase 33.13 percent in just six months after he was promoted in January 2006 to assistant to the CEO, a position without any direct oversight of county departments or employees. Richardson draws a salary of $191,089."
Richardson is going to lose pay and his taxpayer provided car – "The subcommittee's recommendation to demote Richardson to an administrative manager III would also revoke his monthly car allowance and county contribution to a 401 (a) plan and cut his pay by three percent, resulting in an 11.2 percent reduction in his total compensation."
Santa Ana Councilman Carlos Bustamante also would have likely  been demoted from his County management job, but he saved the County the trouble by resigning after allegations of sexual harassment surfaced a few weeks ago.
Richardson and Bustamante, who are both Republicans, are up for reelection next year, to their respective Santa Ana local offices.  Good luck boys…