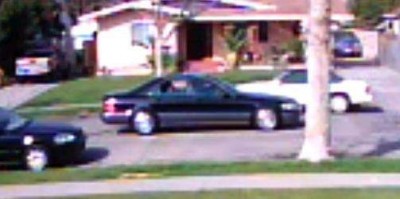 Santa Ana Police Department Advisory: Detectives request the media and publics assistance in identifying a vehicle involved in a drive by shooting.
On 1/28/14, SAPD Communications received several calls of shots fired in the area of 600 E. Chestnut. Witnesses reported that a black over gray late 90's or early 2000's Lexus or possibly an Acura 4 door was shooting at a male adult bicyclist.

The victim in this case was being chased by the suspects for several blocks. The last part of the incident was captured on video surveillance. In the video you will see a male adult on a red bicycle traveling east on Myrtle Street and the black suspect vehicle following behind. The rear male passenger shoots at the male bicyclist and misses. The vehicle fled and was last seen traveling northbound on Halladay Street.
The occupants of the vehicle might be involved in another robbery and a separate shooting late last year.
Video available upon request contact Police Department PIO Anthony Bertagna
Anyone with information is asked to contact Detectives at the Crimes Against Person- Homicide Unit @714-245-8390 or Orange County Crime Stoppers at 1-855-TIP-OCCS.
###