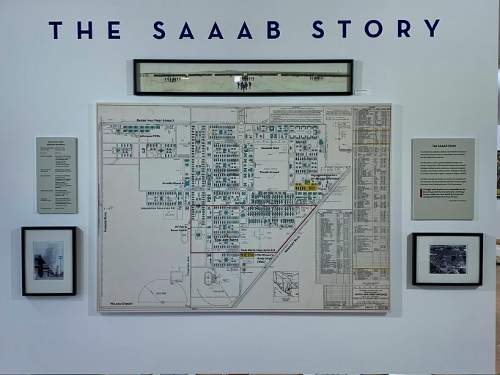 COSTA MESA (Nov. 8, 2021) – Heroes Hall Museum will reopen its permanent exhibit, The SAAAB Story, which chronicles the history of the Santa Ana Army Air Base, on Thursday, Nov. 11, with a special Veterans Day celebration. The air base's location once included the land on which the OC Fairgrounds now sits, and Heroes Hall's building is a renovated barracks from the base.
The exhibit first debuted when Heroes Hall opened in 2017 but has been updated with several new artifacts and memorabilia.

"The SAAAB Story is much more immersive now," said Carol Singleton, Heroes Hall Supervisor. "It will help people better understand what the cadets went through while they were training here. Everything about the exhibit is connected to the Santa Ana Army Air Base."
The Costa Mesa Historical Society provided a lot of the artifacts, including original posters, uniforms, cadet personal items, trophies and telegrams. Previously the exhibit featured photo reproductions but now includes original photos on display.
Other new sections include information about:
• Women, Latinos and LGBTQ service members in the military during World War II
• Letters from 8th graders who were sent to internment camps to their white classmates in Westminster
• German POWs who worked on the base picking oranges
• Tuskegee Army Air Field, which is where the Black airmen who would have trained at SAAAB were placed were it not for segregation
• Victory gardens, rationing and other campaigns led on the home front
"My favorite part is the personal stories of the cadets that graduated here," Singleton said. "There are eight different cadet stories, each one extraordinary, and all eight went on to the war in either the South Pacific or the European theatre."
The SAAAB Story is a permanent exhibit at Heroes Hall. Heroes Hall is open year-round, Wednesdays through Sundays from 10 a.m. to 4 p.m. Admission is free. The first-floor exhibit, Through Their Eyes: Artwork by Active Military and Veterans, will be on display until Jan. 20, 2022.
EXHIBIT REOPENING EVENT
Celebrating Veterans at Heroes Hall
Join us for the SAAAB (Santa Ana Army Air Base) Exhibit Reopening Ceremony which will include an All-American Boys Chorus performance, Marine Corps birthday cake cutting, and kids activities.
This event is free in partnership with the Heroes Hall Veterans Foundation.
When: Thursday, Nov. 11, 11 a.m.-2 p.m.
Where: Heroes Hall at the OC Fairgrounds in Costa Mesa
OC Fair & Event Center in Costa Mesa, CA, is home to the annual OC Fair and Imaginology. Year-round attractions include Centennial Farm, Table of Dignity, Heroes Hall and Pacific Amphitheatre. Throughout the year, events ranging from recreation shows to cultural festivals are held at the fairgrounds.