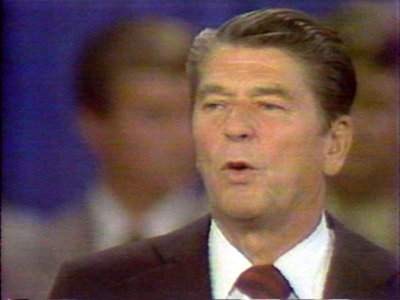 The CSUF Grand Central Art Center is hosting a video screening of Future Perfect: Time Capsules in Reagan Country (40 min, 2015), a film by Daniel Tucker, on Sep. 24, 2015, at 7 pm.
Developed during a 2014 residency at the CSUF Grand Central Art Center, this new video chronicles the story of 3 time capsules related to Ronald Reagan in southern California. Ten years after his death and 25 years after the fall of the Berlin Wall and Ronald Reagan's departure from the office of the President of the United States, this work grows out of an interest in the continued echoes of a speech delivered by Reagan following the end of his Governorship in California on August 19th, 1976 at the Republican National Convention in Kansas City, Missouri. In this speech Reagan talks of the difficulty he found in writing a letter for a time capsule to be sealed in Los Angeles and opened one hundred years in the future. Departing from this moment "Future Perfect" explores Reagan's future-oriented science fiction imagination and rhetoric through visits to Reagan-inspired monuments and time capsules throughout California.
The film includes interviews with Cheryl Eberyl, Manny Escamilla, Belen Gomez, Peter Hannaford, Dr. EC Krupp, Tim Rush and Cindy Hooper.
Funding for the project was made possible through support of an artist-in-residence at Grand Central Art Center – a unit of California State University, Fullerton, with partial funding support from The Andy Warhol Foundation for the Visual Arts.
An additional screening of "Future Perfect will take place 8pm, September 25 at Veggie Cloud in Los Angeles.
Information about the project and the GCAC time capsule (you may have noticed it hanging from the beam in our Education Gallery) can be found on the GCAC website.