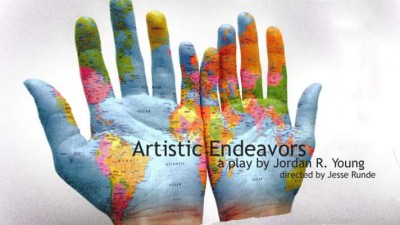 FOR IMMEDIATE RELEASE: 2.8.15
Contact: Eric Eberwein, 714.902.5716
OCPA Studios presents…Artistic Endeavors, a new play by Jordan R. Young
SATURDAY, February 28 – 2:30 pm
Theatre Out at 402 W. 4th St., Santa Ana, CA 92701
$6 suggested donation
The Orange County Playwrights Alliance turns 20 in 2015 and kicks off the celebration of its 20th year with a new play event at Theatre Out in Santa Ana's Artists Village. On February 28 at 2:30pm, the OCPA Studios series presents Jordan R. Young's Artistic Endeavors, directed by Jesse Runde (Alchemy Theatre Company), in cooperation with Theatre Out.
The Play
Set in present-day Los Angeles, Artistic Endeavors is a dark satire of the art world that pits an investigative journalist against an unscrupulous museum curator and a scrap metal thief.
The Playwright
Jordan R. Young's plays include Hollywood Is a State of Mind, a trilogy of one-act plays produced by California Artists Radio Theater in Hollywood for broadcast on public radio; Love Is Not All: The Passions of Edna St. Vincent Millay, which originated as a one-woman show at Wesleyan College in Macon, Georgia; Triple Cappuccino, a short piece performed Off Off Broadway; Sgt. Levy's Lonely Hearts Club, which has been read at the Melbourne Fringe Festival; and Picasso's Mustache, a surreal homage to Salvador Dali. His books on theatre and film include Spike Jones Off the Record, Acting Solo, The Beckett Actor and King Vidor's THE CROWD: The Making of a Silent Classic, named one of the Best Film Books of 2014 at the Huffington Post. His work has appeared in The New York Times, The Washington Post, The Los Angeles Times and many other publications.
The Orange County Playwrights Alliance (OCPA) began on April 1, 1995 with an informal meeting in an oncologist's office in Anaheim. Since then, OCPA has become the fundamental group for playwrights in O.C., presenting staged readings and productions of plays at intriguing local theatres. Its dramatists have been produced across the U.S., and have won national and regional awards.
As a gay and lesbian theatre, Theatre Out presents works by gay and lesbian playwrights, as well as pieces about the gay and lesbian community, and strives to explore both the classics that shaped our history and the new works that are continuing to form, examine and reshape our culture. Theatre Out is passionate about telling the stories of the GLBT community with romantic comedies, intriguing musicals, thrilling mysteries, serious dramas and everything in between. Theatre Out fosters a creative environment open to all artists in the theatre community, and it fosters local playwrights by supporting groups such as OCPA.
RESERVATIONS: 714.902.5716
###