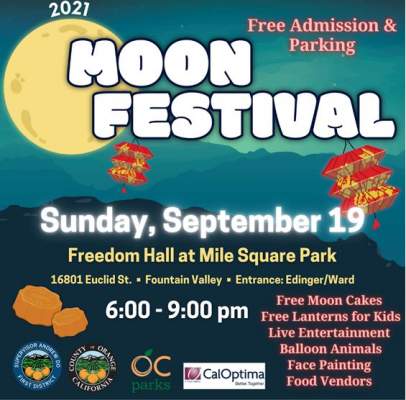 In a tradition dating back thousands of years, Orange County will celebrate the Moon Festival on Sunday, September 19, with live entertainment, moon cakes, and lanterns for children and families in an outdoor setting at Mile Square Park!
"This year's celebration is especially important for the reunion of friends and family – especially for those who are able to be together," says Supervisor Andrew Do, Chairman of the Orange County Board of Supervisors. "The Moon Festival allows the community to come together in an outdoor space and remember what they are thankful for."
The festival will feature food vendors, face painting, balloon animals, live band entertainment, and a parade of colorful lanterns for children.
The free event is hosted in collaboration with CalOptima and OC Parks.
The OC Health Care Agency strongly recommends that children who are not vaccinated and the elderly who are at high risk wear a face mask. Face masks and hand sanitizer stations will be available at the event.
WHAT:
OC Annual Moon Festival
Food Vendors
Face Painting
Balloon Animals
Live Musical Performances
Colorful Lantern Parade for Children
WHEN:
Sunday, September 19, 2021
6:00 PM – 9:00 PM
WHERE:
Freedom Hall Lawn at Mile Square Park
16801 Euclid Street, Fountain Valley, CA 92708
WHO:
FREE Admission
CONTACT:
For more information, please call 714-834-3110 or email First.District@ocgov.com.
EVENTBRITE LINK HERE.