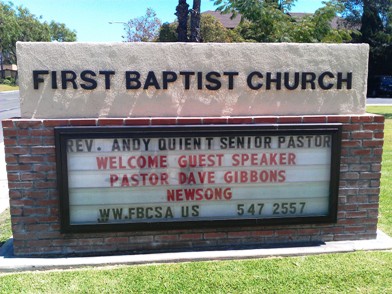 Newsong Church of Irvine and Santa Ana's First Baptist Church are still in escrow, as I understand it, but already there are plans for Newsong Santa Ana to join the congregation at First Baptist as of the service on Dec. 19, and the entire Irvine Newsong congregation will be coming to Santa Ana for a joint service on January 12, 2014.
First Baptist is a historic congregation in that this was the first Protestant church in Santa Ana, originally operating on land donated by the founder of this city, William Spurgeon.  Over the years the congregation dwindled as folks moved away and began to pass away.  Pastor Andy Quient reached out to Newsong's Pastor Dave Gibbons when Newsong's attempt to purchase the Santora Building, in Downtown Santa Ana, was rebuffed by the artists in DTSA.
Quient will be continuing his ministry at First Baptist in conjunction with Newsong.  The deal that is in escrow was approved by First Baptist's members a few months ago after many months of deliberation.
This is all such a relief to the members of First Baptist who are now assured that their church will continue its ministry and it will be re-energized by Newsong and Gibbons.
Click here to get email updates from Newsong.
Click here to check out Quient's website, for his radio ministry on AM 830.