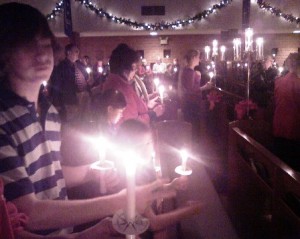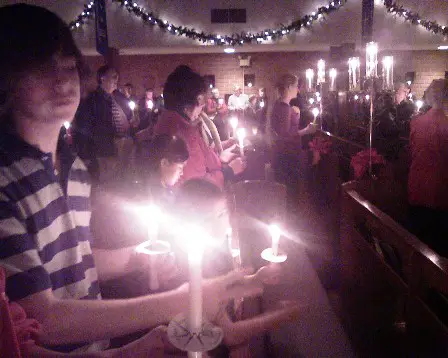 If you are looking for a Christmas Eve church service in Santa Ana, here is a rundown of the events we were able to come up with:
The historic First Baptist Church of Santa Ana is celebrating Christmas Eve on Tuesday night, Dec. 24, with their annual Christmas Eve candlelight program, which includes a service featuring Rev. Andy Quient, and Christmas Carols by candlelight, starting at 6 pm, in the patio and the Fireside Room.  First Baptist Church of Santa Ana is located at 1010 West 17th St., near Flower St.
The Santa Ana Salvation Army's Temple's Christmas Eve Service. Date: 09:00 AM, 24 December 2013. All are invited to attend the Santa Ana Temple Corps' Christmas Eve Service. There is no better way to prepare for Christmas Day than by sharing in a holiday themed service for the whole family. Location: The Salvation Army Santa Ana Temple-1710 W. Edinger Avenue, Santa Ana, CA 92704 Time: TBD. Contact: Major Antonio Horta-(714) 545-2937.

Santa Ana United Methodist Church

.  December 24, 2013- Candlelight Christmas Eve Service at 7 p.m. The Songs of Christmas: "Silent Night." Located at 2121 N. Grand Ave., in Santa Ana.
Episcopal Church of the Messiah. Tuesday, Dec. 24, at 4 pm. Please join us for this Family Christmas Eve service with a special sermon for children, and music.  Located at 614 North Bush Street, in Santa Ana. There will also be a

Eucharist service

at 10 pm.
Calvary Church of Santa Ana. Christmas Eve Candlelight 5:00 pm. Join us for a beautiful evening as we celebrate the birth of Jesus, reflecting on the grace and life we find in Him.  Located at 1010 N. Tustin Ave., in Santa Ana, CA 92705.
Newport Church. Christmas Meal for Day Laborers [The Ham Boys Delivery]. Tuesday Dec 24 from 9am-11am. Donations needed for 75 men and families @ $20 each = $1,500.  Segerstrom High Theater at 2301 W. MacArthur Blvd, Santa Ana, CA 92704.
Church of the Foothills. December 24 5:30 PM. Christmas Eve Service. Special sacred music by the chancel choir. Located at 19211 Dodge Ave., at Newport, in Santa Ana.
Click here for a list of online OC Roman Catholic parishes.