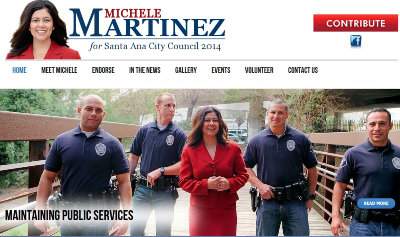 Santa Ana Councilwoman Michele Martinez was not endorsed this year by either the Santa Ana Police Officers Association or the Orange County Deputy Sheriffs Association but that has not stopped her or her friends from pretending otherwise.
Martinez is using a picture of herself with police officers on her campaign website and a PAC that supports her just sent out a mailer this week using the same picture – and the same message.
This is fraud.  Martinez was rejected by our leading law enforcement associations for a reason – she has been on the wrong side of crime fighting and our police officers just don't trust her any more.  Nor should we.
Don't forget that Martinez previously admitted to selling drugs when she was younger – and she was furious when her half-brother was arrested during her ill-fated campaign for Mayor.  Instead of holding her relative accountable she swore to fire Chief Walters that day and she finally got her revenge last year.
Martinez led the effort to fire our previous Chief of Police, Paul Walters, who as our City Manager saved our city from certain bankruptcy.  Martinez also took point in getting rid of the SAPD's strike force.  And she has endorsed Roman Reyna for Mayor even though there is now proof that he is affiliated with dangerous gang bangers.
Martinez also took part in the hiring of our new police chief, Carlos Rojas, without the benefit of conducting a national search.  Rojas had no executive experience and his tenure has been a total disaster thus far.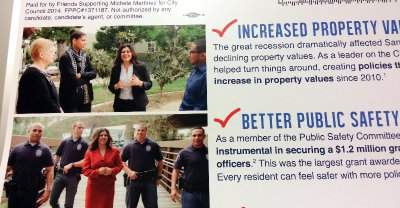 Martinez needs to pull these images off her website and her shady friends who are sending out these mailers need to stop using these images as well.  She should also apologize to the Santa Ana Police Officers Association.
The only candidate for Ward 2 on the Santa Ana City Council who should be pictured with our local police officers is Mirna Velasquez.  The Santa Ana Police Officers Association endorsed Velasquez, not Martinez.  And the Association of Orange County Deputy Sheriffs also endorsed Velasquez.  On Nov. 4 it is Velasquez we should be voting for, not Martinez.