Art Pedroza started Orange County's first political blog, the award-winning Orange Juice, back in 2003.  In 2009, Pedroza started the New Santa Ana blog, breaking ground once again with Santa Ana's first civic blog.
The New Santa Ana blog has become a runaway success – with over 45,000 53,000 page views per month.  Below is our readership data for August, 2012, courtesy of Google Analytics: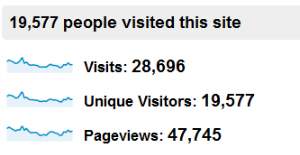 And here is our readership data for August, 2014:

This is the best place to find out what is going on in and around Santa Ana – from charitable events to all kinds of entertainment.
If you would like to blog for us, email our editor by clicking here.  And also let us know if you would like to advertise on this blog.  You may also call us at 714-606-7622.
An OCPR and eMedia Solutions publication.