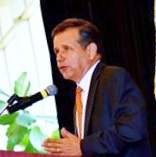 Santa Ana's longtime Mayor, Miguel Pulido, invited me to sit at his table yesterday as he delivered his 19th annual State of the City address, at the Bowers Museum. This is an annual event sponsored by the Santa Ana Chamber of Commerce. The proceeds of the event are used to fund various youth programs run by the Chamber of Commerce.
The room we were in was packed, which is always the case at these events. We were served a bizarre Americanized version of chilaquiles which was heaped on a slice of sauteed ham and included corn tortilla chips (with no chili seasoning), scrambled eggs, shredded Monterey jack cheese and cilantro. No salsa was served. There were also mini muffins, cream cheese and what looked like raspberry jam.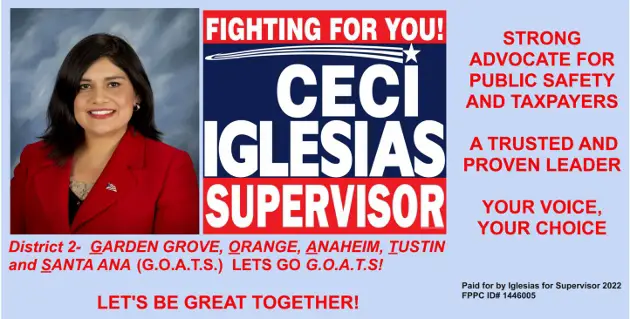 Pulido was introduced by former Governor Antonio Villaraigosa, who mostly spoke about his own career but did take a few moments to talk about how helpful Pulido was to him over the years. Villaraigosa now works at a bank in Irvine. He is likely to get a federal appointment if Hillary Clinton wins the Presidency in November.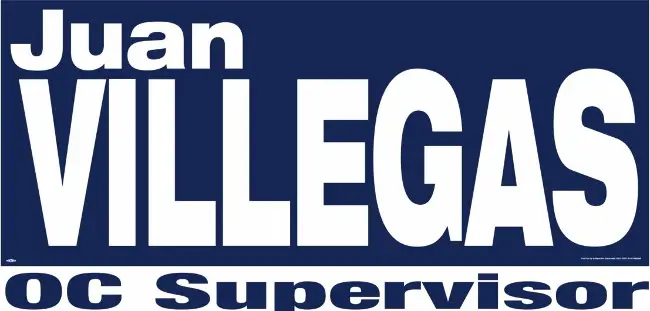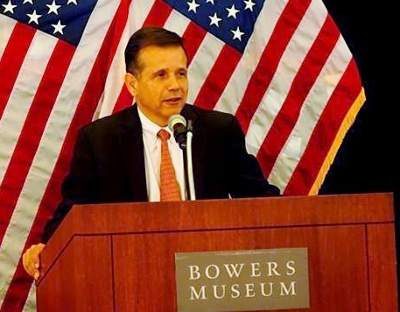 Pulido has been our Mayor for 22 years. On Wednesday morning he spoke about many of his accomplishments, most of which utilized redevelopment funds that no long exist thanks to Pulido's ally, California Governor Jerry Brown. Those projects include turning our Downtown into a destination with over 70 restaurants.
Pulido also spoke about several upcoming major projects, including Heritage Village, which will be the city's largest mixed-use development and the AMCAL First Street Apartments, which will offer 69 below-market-rate units, according to the O.C. Register.
Pulido also hinted that local developer Mike Harrah might finally be ready to break ground at his One Broadway Plaza development. That is supposed to one day be Santa Ana's highest office building, with 37 stories. Pulido said he thought it would be starting up by this time next year. For that to happen Harrah will first have to lease most of it. Harrah should really petition the city to change that project to a mixed-use building with both condos and offices. And it would be nice to top it with a small observatory, wouldn't it?
Pulido also talked bout the need to hire more police officers. We currently have about 300 police officers but we really should have closer to 400 cops on staff. Pulido has been pushing to spend any surplus budget funds on hiring more cops. Unfortunately some of the Council Members, particularly Roman Reyna, are opposed to doing so. I can't imagine what they are thinking. Pulido recognized in his comments that crime has been a problem in our city.
Pulido also cited the fact that we have a record number of active business licenses in town, with over 29,000. That is good news for our city budget and for local job creation.
Pulido also talked about our local schools and he mentioned that a new Nicholas Academic Center is coming to Century High School. He also said that Mater Dei is working in building a new performing arts center.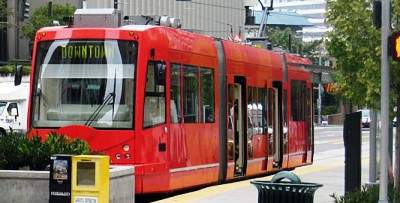 Pulido of course mentioned his favorite project, the OC Streetcar. So far almost a third of the streetcar's design has been completed. The proposed Anaheim streetcar was recently canceled by the OCTA's Board of Directors.
As is his annual tradition, Pulido closed by asking his father, Luis, and his two sons to join him on the stage along with a family friend to play three songs. They first played a traditional Spanish song about riding a bus in Mexico City, called "El Camion." Then they sang a Hank Williams Jr. song in English and they closed with a song in both languages about barrels of beer. We will be loading these performances onto YouTube and be adding them to this post. I was amazed that the Mayor's dad, Luis, performed so well even though he is 90-years-old. He also seemed to love the awkward chilaquiles as he finished them off while Mayor Pulido was speaking.