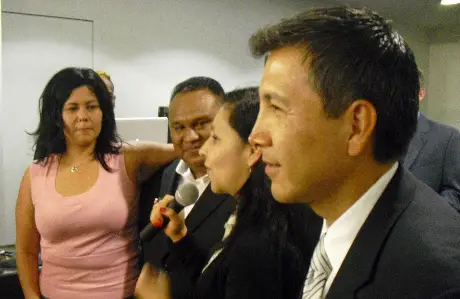 When Jerry Brown came to Santa Ana, to speak at the O.C. Labor Day event, he first stopped to visit at Mayor Miguel Pulido's home.  Now that both Brown and Pulido have won, the Voice of OC blog is speculating that Brown might appoint Pulido to a state position, possibly in energy or a cabinet-level position involving the environment.  Pulido confirmed this with the Voice of OC.
It is true.  This might happen.  Pulido might also get a call from President Barack Obama.
So what if this happens?  Well, for one thing, this does not mean that mayoral runner-up Alfredo Amezcua would be next in line.  The system doesn't work that way.  Instead, the City Council majority would appoint the next Mayor.  That would likely be Mayor Pro Tem Claudia Alvarez, who has shown in the past that she is very capable of running the City Council meetings when Pulido has been away.
This would open up Alvarez' Council seat, in Ward 5, for an appointment as well.  This is ideal as the Council majority will not give that position to SAUSD Trustee Roman Reyna, who many think will run for that seat in two years.  Who would it be?  I don't know.  But Alvarez better get busy looking for someone right away.
Even if Pulido stays put, Alvarez is terming out in two years.  And it is very likely that Council Members Vincent Sarmiento and/or Sal Tinajero will run for the 69th Assembly District, as incumbent Assemblyman Jose Solorio will be termed out in 2012.  I would guess that Sarmiento will be the one as Tinajero really enjoys his job as a school teacher and debate team coach.
Council Member Carlos Bustamante has to run again in two years.  This time he is sure to be challenged by a well-funded Democrat.  Bustamante campaigned vigorously for Republican Assemblyman Van Tran this year, when Tran challenged Congresswoman Loretta Sanchez.  The Democrats won't soon forget this.  Bustamante is toast.
So what about Amezcua?  He may run for Mayor again in two years, but he will get trashed again if he challenges either Pulido or Alvarez.  I think he is done in politics.  He may still face prosecution for running for the Rancho Santiago Community College District's Board of Trustees while not living in the Area he ended up representing.
Who else might run for Mayor in two years?  Well, how about Solorio?  He is going to be termed out.  He could run for Mayor, and then serve for two years and run for State Senator Lou Correa's seat, in the 34th Senate District, in 2014, when Correa is going to term out.
Solorio could also run for the Board of Supervisors, and challenge incumbent Janet Nguyen, in 2012.  I would love to see that come to pass.  I think he would wipe the floor with her.
One thing is for sure, a lot of change is coming to the Santa Ana City Council, whether we are ready for it or not.
UPDATE: According to the Santa Ana City Clerk, if Pulido leaves, then Mayor Pro Tem Claudia Alvarez will replace him and the City Council will have thirty days to appoint a replacement.