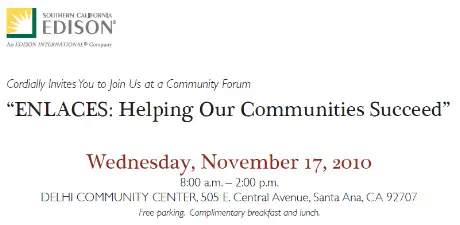 Cordially Invites You to Join Us at a Community Forum "ENLACES: Helping Our Communities Succeed"
Wednesday, November 17, 2010, from 8:00 a.m. – 2:00 p.m.
DELHI COMMUNITY CENTER, 505 E. Central Avenue, Santa Ana, CA 92707
Free parking. Complimentary breakfast and lunch.
LEARN MORE ABOUT:
How nonprofits and faith-based organizations can earn money while helping clients
Small Business Rebates
Getting help paying SCE bills
Discounted rate and economic assistance programs
Saving energy and money
How to apply for grants and sponsorships
Business assistance programs
SCE's Supplier Diversity programs and contracting opportunities
SCE Advanced Technology: Smart Meters, Solar, Plug-In Electric Vehicles
PROGRAM AGENDA:
7:30 a.m. – 8:00 a.m. Registration & Continental Breakfast
8:00 a.m. – 11:30 a.m. SCE Panel Discussions and Question & Answer Sessions
11:30 a.m. – 1:00 p.m. Lunch & Community Panel Discussion
1:00 p.m. – 2:00 p.m. Networking Opportunities – SCE staff available to help customers and organizations sign up for programs
RSVP DEADLINE: Monday, November 15, 2010.  Southern California Edison – Elizabeth Canadas (626) 302-1156 or elizabeth.canadas@sce.com.