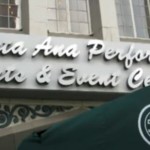 A reader asked me recently for information about the purchase of the old Masonic temple in downtown Santa Ana, by the Church of Scientology.  I did not know much about it at the time, but can now say that this is indeed a story worth visiting.
Developer Mike Harrah sold the building, after turning it into the Santa Ana Performing Arts Center.  It is a beautiful building, but if you go by there it is still essentially empty.
What I found out was that the Church of Scientology had the money to buy the building, but has since been unable to raise enough money to do anything with it.
In 2006, Church spokeswoman Marie Murillo said the building was being purchased for an undisclosed price because the 1,500-member Orange County church was growing and needs more space, according to the O.C. Register.  Murillo also said that the building would be used for classes, counseling sessions, weddings, Sunday services and other church events, and it would be made available for community events.  None of that has come to pass.
The OC Weely's Gustavo Arellano reported in June of this year that the City of Santa Ana had posted a notice on the door of the building, advising that the water was going to be shut off due to non-payment of their water bill.
A blogger named Mark "Marty" Rathbun reported, also in June, that the Church had stated in a promo piece that:
Thus we do have a building. But it is incomplete. It needs to be renovated to our Ideal Org standards. Why is renovation not started and completed?

At the time we purchased the building, it was stated that funding for our building was complete. Why? The plan was to sell our current building, This would provide the money needed to renovate the build to our ideal standards.

Times do change. Since then, the real estate market has crashed and the valid and available buyers reduced with the economy. The current church facility has not yet sold. Thus our purpose in creating a new ideal church facility is slowed due to a lack of funding. Also the Public Division spaces have been re-designed based on upcoming releases and testing of designs in current Ideal Orgs.

The evolution is complete and we have the go ahead. We need to go straight up and vertical and occupy our building so we have not an Ideal Org building but an Ideal Organization and all that it means.
Rathbun goes on to state that the Church has been shrinking worldwide and that perhaps this building was not needed.  Moreover, they have been directed to raise money to finish remodeling the building by selling copies of their book "Dianetics."
I have observed this in person.  They were selling the books at the recent Santa Ana Fiestas Patrias.  Here is a picture I took of their booth: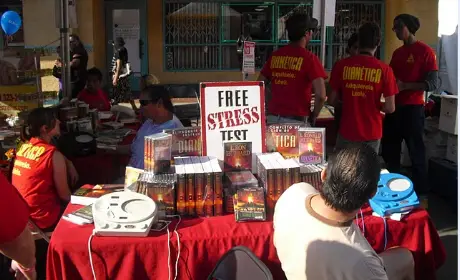 Note that they actually have shirts in Spanish!  Funny.  But folks were NOT stopping to visit.
Does Scientology have a future in Santa Ana?  Maybe, but not amongst Latinos, I don't think.  However, they do appeal to Hollywood types.  That means they might find a few converts amongst the denizens of the lofts in downtown Santa Ana.  But, apparently they are treading water and just cannot raise the money they need to, in order to finish remodeling what used to be our Santa Ana Performing Arts Center.
I cannot fault Harrah for selling it.  He needed the money for his One Broadway Tower project.  We can but hope that the Church of Scientology will sell it again to someone who will make better use of it.