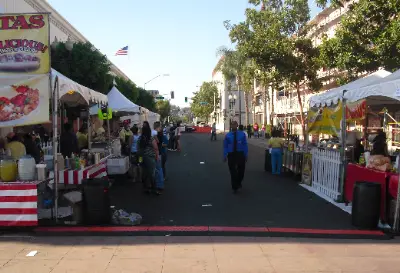 "With the downturn in the economy, Mexicans residing in Santa Ana legally and illegally began to look south. In the city of about 325,000, this Mexican flight has manifested itself in a number of ways: Census data show a decline in the city's Latino population. Schools report plummeting enrollment. Foreclosed homes abound in historically Mexican immigrant neighborhoods," according to the O.C. Register.
The affect of this mass exodus of Mexicans has been brutal.  Santa Ana businesses, from downtown wedding dress shops to Wal Mart, have suffered.  Our schools have lost hundreds of students.  The Register also published a separate article today about one family that took their daughters, who were honor students, back to Mexico.  Now they are trying to survive while surrounded by violence.
And Santa Ana has led the County of Orange in home foreclosures.  I have seen the affect of this firsthand, as a candidate for the SAUSD School Board last year.  I saw the change in demographics as I walked precincts last year.  Hundreds of the foreclosed homes are now occupied by Vietnamese American families.  That is a huge change as these families tend to be registered as Republicans – and they vote.
It is hard to quantify how many Mexicans have left, but when I visited this year's Cinco de Mayo event, in downtown Santa Ana, it seemed half empty compared to previous years.
The affect on downtown Santa Ana has been so drastic that landlord Irv Chase changed the name of his Fiesta Marketplace, dubbing it the "East End Promenade," and he hired a gay promoter, Archer Alstaetter, to market the area.  Altstaetter now has a business of his own – a costume store.
The changes Chase wrought did not go over well with many Latino business owners, and the backlash against gentrification grew louder when the landlord who rented space to El Centro Cultural de Mexico threw them out, based on lies that they had caused damage to his building.  They have since found a new home.
What about political change?  It will be a long time coming but I can definitely see a Vietnamese American getting elected in the next few years, to our City Council.  Changing our City Council elections from at-large to ward-specific would speed that process up.  But the Usual Suspects continue to oppose ward-specific elections, even though it is the only way they will ever have a voice in this city again – or at least in the next ten years.
With the advent of "top two" legislative elections we could see additional political impacts developing, perhaps as soon as next year.  Already we have a Latino vote split in the 69th Assembly District, where labor consultant Julio Perez is challenging Santa Ana Councilwoman Michele Martinez.  If Orange County Clerk Recorder Tom Daly does eventually file as a candidate as well, he could end up in the top two, thanks to the Latino vote split.  Any Democrat should prevail in the general election as the Republicans have dwindled in the 69th.
The haters are celebrating the exodus of Mexicans from Santa Ana.  Our City's thirty million dollar deficit though is only going to grow as these consumers take their money elsewhere.  Ironically most of that deficit is in the form of pension benefits due to the mostly white folks who worked here in Santa Ana for so long.  Now they are bankrupting our city thanks to their overly generous pension benefits.