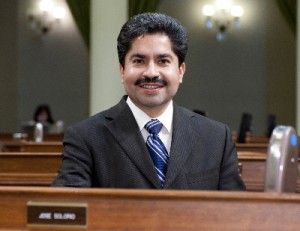 For Immediate Release: November 14, 2011
For More Information Contact: Carol Chamberlain – office: (916) 319-2069, mobile: (916) 804-5355
Assemblyman Solorio Releases Statement Regarding OC's Move to Halt Property Tax Payments to Schools Due to VLF Take
Anaheim – State Assemblyman Jose Solorio (D-Anaheim) released a statement today regarding the announcement by Orange County officials that due to an unanticipated shortfall in revenue caused by the state reneging on sending the County $48 million in vehicle license fees, the County has decided to hold back property tax payments slated for schools.
"I sympathize with the County, and understand why it's taking such aggressive action. But we really need to find a fair solution in Sacramento that works for the County, local schools and the state on an annual basis.
Last month County advocates and I met with the Governor's finance office to request that they address this issue in the state budget that the Governor will present in January. I'll continue to pursue every avenue, legislatively and through the budget, to solve this crisis. One way or another, a solution will materialize and I think the County's action today will help expedite that."
State Assemblyman Jose Solorio is the Chair of the Assembly Insurance Committee and also serves on the Assembly Appropriations and Transportation committees. He represents the Sixty-Ninth Assembly District, which includes the cities of Anaheim, Garden Grove, and Santa Ana. For more information about Assemblyman Solorio, visit www.assembly.ca.gov/solorio.
###