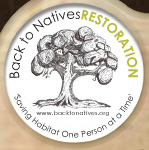 ***FOR IMMEDIATE RELEASE***
Contact:Reginald Durant, Director of Restoration, Back to Natives Restoration, (949) 335-8655
Back to Natives Restoration Celebrates Grand Opening of Greenhouse at Nursery at Santiago Park
City of Santa Ana provides space for non-profit to grow plants in support of habitat restoration and environmental education programs.
SANTA ANA, Calif., October 30, 2011 – Back to Natives Restoration, a 501 (c)(3) nonprofit public charity is partnering with the City of Santa Ana Parks and Recreation Department to establish a Native Plant Nursery and Greenhouse at the Santiago Park Nature Reserve. Plants will be used to support environmental education and habitat restoration programs. The Santiago Park Nature Reserve is located at 600 E. Memory Lane in Santa Ana.
Back to Natives is presenting a Greenhouse Grand Opening event at the Nursery on Saturday, November 19, 2011 from 9AM to 3PM. Free "mini workshops" on a variety of topics and tours of the Nursery and Greenhouse will occur throughout the day. Gerardo Mouet, Executive Director of the City of Santa Ana Parks, Recreation and Community Services Agency will be on hand with Community Leaders for a Ribbon Cutting at 10AM.
Mini workshops include:
Native Uses Garden with Craig Torres, 11AM
Butterfly and Bird Gardening, 11:30AM
Square Foot Gardening, 12PM
Rainwater Harvesting, 12:30PM
Native Plant Landscaping, 1PM
Edible Landscaping, 1:30PM
Permaculture, 2PM
Guests will enjoy free Kéan coffee. Food will be available for purchase from the Calbi Truck.
Back to Natives is hosting a fundraising dinner at the Nursery in celebration of the greenhouse grand opening on November 19, at 4PM. Guests will enjoy local, organic hors d'oeuvres and mocktails from 4-5PM and a dinner buffet at 5PM, all catered by Avanti Café. They will experience live music by Mike Wilson. Tickets can be purchased online through November 15 at www.backtonatives.org/fundraiser or call 949-509-4787 to pay over the phone.
The Nursery location is very rustic. Closed toed, low heeled shoes are recommended. There are restrooms available a short distance (1000 feet) away at the Nature Center. About Back to NativesBack to Natives Restoration, a 501(c)(3) non profit organization, is dedicated to the restoration and conservation of Orange County and California wildlands, though education and restoration programs featuring native plants as a centralizing theme. Back to Natives uses profits from designing locally native plant landscapes to fund service learning and environmental education programs. For more information, please visit www.backtonatives.org or call 949-509-4787.
###