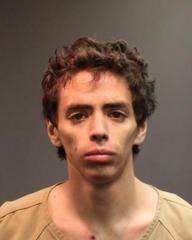 ORANGE COUNTY DISTRICT ATTORNEY PRESS RELEASE
Case # 15CF1623
Date: July 21, 2015
FATHER TO BE ARRAIGNED FOR MURDERING INFANT BOY AND COMMITTING LEWD ACTS ON 14-YEAR-OLD GIRL
SANTA ANA, Calif. – A father is scheduled to be arraigned today for murdering his infant boy and committing lewd acts on a 14-year-old girl. Jordan Peter Mendez, 20, Santa Ana, is charged with one felony count of murder and one felony count of committing lewd acts upon a child under the age of 14. If convicted, Mendez faces a maximum sentence of 33 years to life in state prison. Mendez is currently being held on $ 1 million bail and is scheduled to be arraigned this afternoon in Department CJ-1, Central Jail, Santa Ana.
Between June 1, 2014, and Aug. 31, 2014, Mendez is accused of committing lewd acts upon Jane Doe, who was under the age of 14.
On the evening of July 17, 2015, the defendant is accused of watching his son, 3-month-old John Doe, alone while Jane Doe ran errands. The defendant is accused of leaving the home with John Doe and later returning to the residence with the baby. After the defendant returned home, Jane Doe noticed that the infant was struggling to breathe.
At approximately 8:45 p.m., officers from the Santa Ana Police Department (SAPD) responded to a 911 call at Jane Doe's residence. The infant was found not breathing in the home and SAPD officers and Orange County Fire Authority paramedics performed CPR on John Doe. The infant was subsequently taken to the Children's Hospital of Orange County, and displayed signs of blunt force trauma to the head. The infant died yesterday, July 20, 2015.
SAPD investigated this case and arrested the defendant.
Senior Deputy District Attorney Keith Burke of the Homicide Unit is prosecuting this case.
###
TONY RACKAUCKAS, District Attorney
Susan Kang Schroeder, Chief of Staff
Office: 714-347-8408
Cell: 714-292-2718