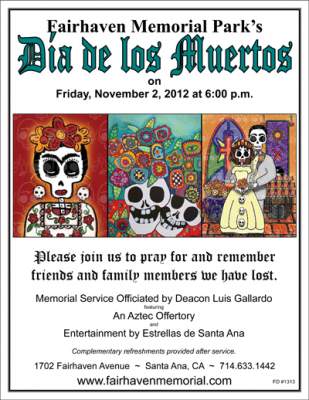 Media Contact: Cynthia Adair, 714.633.1442, cadair@fairhavenmemorial.com
FAIRHAVEN MEMORIAL PARK'S

"Dia de los Muertos"
Santa Ana, CA — Fairhaven Memorial Park & Mortuary will host its Dia de los Muertos Service at 6 p.m. on Friday, November 2nd at the North Gardens Pavillion in Fairhaven Memorial Park.
Dia de los Muertos (or Day of the Dead) is a celebration of the lives of those who have passed, honoring the dead with art, music, altars, and plenty of smiles and is held on November 2, when tradition says the souls of departed loved ones return to partake of the offerings (flowers, candles, food and drink) set out for them on ofrendas by families and friends. The Day of the Dead is considered a day of celebration, instead of mourning.
Often depicted by ornate skeletons, ofrendas (altar-like shrines honoring those who have passed), music, and traditional food, it is a time for families to meet for a lively gathering to remember the dearly departed.
Unlike, Halloween, there's nothing ghoulish or macabre about this holiday. It is, above all, a thanksgiving of family ties and togetherness, as well as an experience of the seamless continuity of life and death. Often families spend the entire night together, enjoying their loved ones' favorite foods and drinks and most importantly, remembering.
We look forward to many of our families joining us for this event. Our Remembrance and Celebration will include a memorial service conducted by Deacon Gallardo from Our Lady of Pillar Catholic Church, ofrendas, live music, and no Dia de los Muertos celebration is complete without the sharing of pan de muerto, a soft round bread covered with sugar that is often decorated with bread in the shape of bones or a skull.
Come join us on this memorable evening to celebrate those we have lost and will never be forgotten.
___________________________
About Fairhaven Memorial Park
Founded in 1911, Fairhaven Memorial Park is Orange County's most beautiful independently owned and operated full service mortuary, crematory and cemetery. Fairhaven offers a wide range of pre-need and at-need services provided with care and compassion. Fairhaven is dedicated to celebrating the individual, providing services that are as unique and wide-ranging as the people they celebrate. Additional information is available at www.fairhavenmemorial.com.