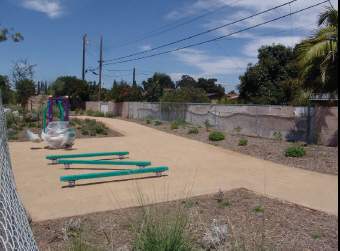 City of Santa Ana, Downtown Orange County Community Alert:
Grand Opening of the City's First Exercise Park
SANTA ANA, CA – (October 23, 2012) – The
City of Santa Ana, Parks, Recreation and Community Services Agency proudly announces the opening of a new exercise park in the Madison Park Neighborhood. On October 27, 2012, at 9 a.m. a Ribbon Cutting ceremony will take place at this exciting new park, which is located, adjacent to the very popular Pacific Electric bike trail. This new .41-acre park is located on Maple Street just north of Occidental Street. As you are biking, walking or running south on the Pacific Electric trail, you will find this new oasis of health just south of Edinger Ave. The ceremony will take place at 9 a.m., where light refreshments will be served and a drawing will be held for a new bike.
This bike trail enhancement project includes, bike rack, exercise equipment, water fountain, benches, dry streambed, D.G. walkway and drought tolerant native plant landscaping. This is the first area in Santa Ana, with outdoor exercise equipment, that will help residents reach fitness goals. The city has been working hard to increase park space for the Santa Ana residents. The total cost for this project was $380,000 and was funded with national Trail Enhancements (TE) Funds. The exercise equipment was obtained with the help and support of Orange County On Track, a local non-profit dedicated in mentoring youth away from violence and drug prevention and encouraging health and fitness as part of their youth leadership development.
This park will be used as a resting stop and area of exercise for those who walk, run and bike along the Pacific Electric bike trail as well as the residents who live in the area. For more information please call Community Services Supervisor, Jeannie Jurado at (714) 571-4251. The event flyer, press release, and parking information can be found at: http://santa-ana.org/parks/ribbon-cutting.asp
####