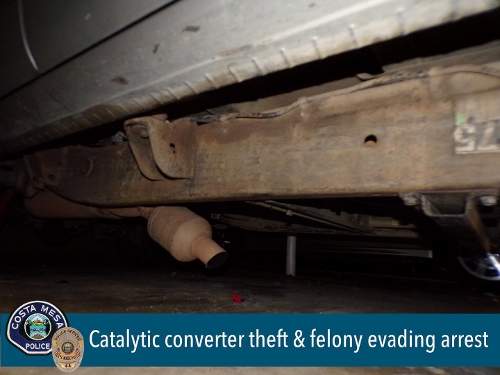 Before 4 a.m. yesterday, the Costa Mesa Police Department received a call from a woman who believed a catalytic converter theft was occurring near a building carport at the 2700 block of Peterson Place. She reported seeing headlights and hearing the sound of a saw being used.
Police officers responded and attempted to detain a man, who quickly got into his vehicle and sped off through the complex. Officers activated their overhead emergency lights and initiated a pursuit.

The suspect attempted to evade and for a short distance, was on the wrong side of the road of Adams Ave. He then abandoned his vehicle at Baker Street and Mesa Verde East and fled on foot.
Officers quickly took the subject into custody.
Officers found an electric saw and a catalytic converter, which was later matched up to a victim vehicle in this picture.