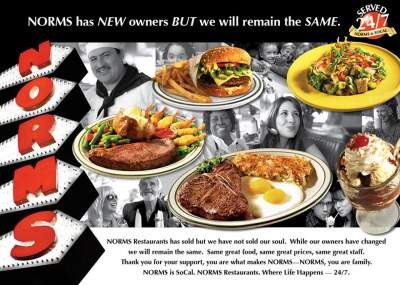 After more than 65 years of family ownership, Southern California's iconic Norms restaurant chain has been sold. The flashing neon and 24-hour sizzling grills have been a Los Angeles institution since Norman Roybark opened his first location near the bustling music scene at Sunset and Vine in 1949 and will continue on under new owner Jim Balis, according to L.A. Magazine.
The Norm's in Santa Ana has been on the corner of 17th and Main St. for as long as I can remember.  They are open 24 hours and are always busy.  Service can be spotty, as noted in Yelp, where they have only 2.5 stars.  But their breakfast meals are awesome and I love that they serve soup and salad with many of their dinners.  And you can't beat their half a sandwich with soup and salad lunch.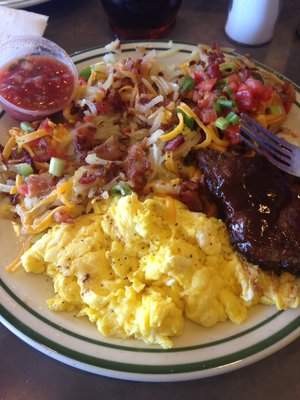 Besides their spotty service, the Santa Ana Norms also has had their share of health violations, but it is worth noting that the violations have all been minor infractions.  Most recently they were inspected by the O.C. Health Care Agency on Oct. 30, last year, receiving these health violations:
Inappropriate Sanitizer Level/ Lack of Test Strips
Restroom in Disrepair/Unclean/Improp. Use/Supplies
Improper Holding Temperatures of PHF
Unsanitary Equipment/Utensil/Linen/Plumbing
Lack of/Unsanitary/Condition Walls/Floors/Ceilings
Improper Food Storage/Receiving
Norms announced the sale of their restaurants on Facebook, with this message, "NORMS Restaurants has sold but we have not sold our soul. While our owners have changed we will remain the same. Same great food, same great prices, same great staff. Thank you for your support, you are what makes NORMS—NORMS, you are family. NORMS is SoCal. NORMS Restaurants. Where Life Happens — 24/7."
Let's hope the new Norms owner, Jim Balis, and their new president Mike Colonna, make improvements now that they have taken over. Colonna's restaurant background includes Chili's, Boston Market, and Victoria Station.  Balis has previously worked at Dunkin' Donuts and the regional chains Fatz and Sticky Fingers Smokehouse.