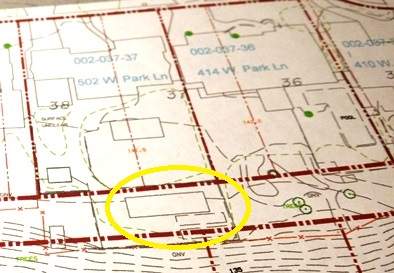 I met with a Santiago Creek bike trail enthusiast the other day and she had some disturbing news for me.  When the City of Santa Ana recently plotted the land adjacent to the Santiago Creek's unfinished bike trail they found out that a number of wealthy home owners had slowly encroached onto public property and no one at City Hall stopped them!
The property owners who have built onto public land include:
Barbara Russell, 410 W. Park Lane
Marsha Vandermolen, 414 W. Park Lane
Fernando Ospina, 502 W. Park Lane
Dale I. Cole, 506 W. Park Lane
Eugene Charles Andres III, 2467 N. Riverside Drive
These residents all live north of the creek except for Andres III.
I also discovered that even though Cal Trans sold a slice of land near the overpass that leads to the unfinished portion of the Santiago Creek bike trail, to a home owner on the north side of the creek, there is still room there for the bike trail to exist.
It should be noted that there is a huge retaining wall on the south side of the creek.  One has to wonder if it was built with tax dollars after the home owners managed to buy land that abuts the creek – land that should have remained public.
By the way, the home owners who oppose the completion of this bike trail say that trees will be torn down in the process but the reality is that the proponents of the bike trail say they will plant three trees for every single tree they have to remove.  And none of the trees on the south side of the creek will even be touched!
The home owners in question want kids to ride their bikes around the unfinished portion of the trail, essentially pushing them onto Broadway and Santa Clara – busy streets that are dangerous for bike riders.
We need to encourage our City Council to allow the unfinished bike trail to be finished.  There are plenty of Federal and State grants available to finish the trail!
Click here to learn more about the unfinished portion of the Santiago Creek Bike Trail.