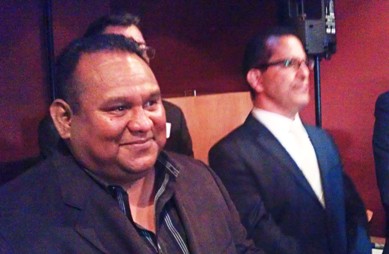 In the end, Santa Ana Councilman David Benavides realized he was outnumbered and so he sucked it up and made the motion tonight to select his colleague, Council Member Sal Tinajero, as the new Santa Ana Mayor Pro Tem.
The rest of the fading Team Benavides tucked their tails twixt their legs and followed suit – one by one they all seconded the motion and finally Mayor Miguel Pulido, who was so horribly attacked by Benavides during this year's mayoral campaign, announced that, by proclamation, the clear choice was Tinajero.  And just like that the "Santa Ana Spring" was over.
Pulido remains in charge and it is clear from tonight's actions that he has the votes to get things done in Santa Ana.  But the new Council majority leader isn't the failed mayoral candidate Benavides.  Instead it is Tinajero who has emerged triumphant, after he was forced to step aside this year when Benavides refused to drop out of the mayoral race.
Things have changed now.  Benavides is now on his heels and in two years he and his co-conspirator, Michele Martinez, will have to face the music as they will be challenged and Pulido will no doubt bring his entire coalition into the fray.
But tonight it was all frivolity as the new Council met with their fans at the Bowers Museum.  I am told that new Council Member Angelica Amezcua was quite the charmer and she is quickly warming to her new position.
Now then on to the next battle.  I am told that Benavides is going to try to appoint a planning consultant, Phil Bacerra, to the Planning Commission.  Bacerra has been hired as a Planning Consultant by Downtown, Inc., the organization that for so long used money taken by other downtown property owners, via the unethical PBID tax, to spend as they pleased.  The PBID is now dying and so it seems that Bacerra is looking for a new gig. According to his Linkedin.com page he is a "Problem Solver."
It is of course highly unethical to put a planning consultant on the Planning Commission.  If Benavides thinks he is going to get away with this he has another thing coming.  Some people never learn…