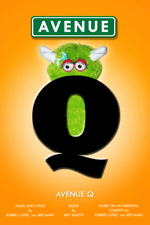 THEATRE OUT TEAMS WITH ALL PUPPET PLAYERS TO PRESENT TONY AWARD-WINNING MUSICAL "AVENUE Q"
Santa Ana, CA (1/04/2012) – Theatre Out, Orange County's gay and lesbian theatre company, is pleased to partner with Orange County's All Puppet Players to present the Tony Award-Winning musical AVENUE Q beginning January 13, 2012. Running through February 25, this imagintive musical combines humans and puppets in a completely adult send-up of childhood favorites such as The Muppets and Sesame Street.
AVENUE Q tells the story of Princeton, an eager recent college graduate, who, down on his luck but still optimistic, looks for a place to live in an apartment complex on Avenue Q. While looking for a job and his purpose in life, Princeton finds friends and love. Other denizens of the avenue include the reclusive, porn-addicted Trekkie Monster; the bright-eyed school teacher, Kate Monster; unusual roommates, Nicky and Rod; Lucy the Slut, fiances Brian and Christmas Eve and Gary Coleman (yes, THAT Gary Coleman). With a music and lyrics by Robert Lopez and Jeff Marx and a witty, heartfelt book by Jeff Whitty, AVENUE Q has been an audience favorite since it debuted Off-Broadway in 2003.
"We are so very fortunate to be one of the first companies in Orange County to produce Avenue Q," commented David C. Carnevale, Managing Director of Theatre Out. "It's a wonderful musical that our audiences will love. Underneath the puppet sex, racial jokes, felt and fur, this really is a musical with heart and a message of acceptance."
"Avenue Q is the perfect musical for Theatre Out and the All Puppet Players to join forces to produce," commented Joey Baital, Theatre Out co-founder and producer. "The success of All Puppet Players in bringing modern puppet theatre to Orange County audiences coupled with Theatre Out's distinguished track record of presenting some of the best theatre in Orange County makes our Avenue Q an amazing and unique production that you won't see anywhere else this year."
Puppets for this production of AVENUE Q have been created specifically for this production and represent a new look at everyone's favorite characters. "I think audiences will be impressed with how naturally Avenue Q fits in a smaller theatre," commented Shaun McNamara, director of AVENUE Q, and founder of All Puppet Players. "Our puppets have been scaled-down in size and our actors have brought them to life with vivid characterizations and bold choices."
Under the direction of Shaun McNamara and vocal direction of Stephen Amundson, the cast includes Nick McGee, Topher Mauerhan, Amanda Knight, Spencer Blair, Ebony Fay, Kalinda Gray, Danny Moreno, Jason M. Hammond, Mia Chiaromante and Rachelle Clark.
Avenue Q contains adult material not suitable for children.
Tickets for AVENUE Q are $25 General admission and $20 for students with valid student ID and can be purchased at www.theatreout.com or at the Box Office on the night of the performance. All performances are at The Empire Theatre located at 202 N. Broadway in Santa Ana's Artist Village. Peformances begin January 13, 2012 through February 25, 2012; Fridays and Saturdays at 8:00 pm with select Thursdays at 8:00pm and select Sundays at 2:00 pm. Special discounted performances are available.
Press inquiries should be made to David C. Carnevale, Managing Diretor at david@theatreout.com or by calling (714) 220-7069.